Almost half of businesses in the UK (44%) experienced at least one LinkedIn scam this year.
According to recent research by NordLayer, the most affected tend to be big companies (65%), fake job offers are the most popular scam they encounter (63%), and damaged reputation, as well as stolen/damaged data (47% each) were the leading outcomes of LinkedIn scams.
Carlos Salas, a cybersecurity expert at NordLayer, commented:
Like in every social media platform, attackers and scammers seek information and money or ruin reputations. We know that employees are considered to be the weakest link in the cybersecurity chain, and LinkedIn has millions of professional accounts, making it an even more appealing target for scammers. So no one should let their guard down, no matter how professional a message might look.
Carlos Salas, cybersecurity expert
What size companies are the most affected by LinkedIn scams?
According to the research, 65% of big companies have been contacted by a scam/fake account on LinkedIn at least once. Furthermore, 58% of medium and 31% of small companies have experienced it at least once.
Most common types of LinkedIn scams and employees' response to them 
Data revealed that fake job offers (63%) is the most prevailing LinkedIn scam among British businesses. Moreover, they also experience active phishing attempts (47%), get-rich-quick offers (43%), and fake tech support (38%).
Surprisingly, 1 in 2 UK companies (50%) are also aware of a scam on LinkedIn using their organisation's brand name. This type of scam was the most prevalent among big companies (53%), but it's also common among smaller ones: 53% of these businesses indicated that this type of scam also happened to them. Only small companies noted that they almost never experience such scams (13%).
Research also shows that the most popular employee action against these scams in the UK was to inform the community about it with a post on social media (68%). Employees were also eager to contact LinkedIn administrators (66%) as well as distribute a press piece for journalists informing them about the incident (57%).
Damaged reputation is the leading outcome of LinkedIn scams for big organisations
As the leading outcome of LinkedIn scams, UK companies named damaged reputation as well as stolen/damaged data (47% each) and high financial loss (43%). Moreover, they also experienced stolen/damaged client contacts (41%) and interruption to operations (36%).
Carlos Salas advises on the best way to protect your business and employees:
One of the best ways to protect your business from LinkedIn scams is to educate your employees about the types of scams that exist and how to recognise them. Also, encourage your employees to use two-factor authentication (2FA) on their LinkedIn accounts as well as verify requests for information.

Finally, regularly monitor the activity on your business's LinkedIn account. Look for any suspicious activity, such as unauthorised logins or changes to account information. If you notice signs that your business has been targeted by a LinkedIn scam, report the activity to LinkedIn immediately and take steps to secure your accounts and data.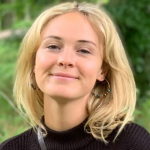 Joanne is the editor for Workplace Wellbeing Professional and Family History Zone. After obtaining a bachelors degree in English literature and media studies, Joanne went on to spend two years of her life writing and teaching English in China and Vietnam. Prior to joining Black and White Trading, Joanne was a marketing coordinator for luxury property in Brighton focusing on blog writing, photography and video creation.