Alarming official statistics reveal that a record number of individuals in the UK are unable to work due to long-term sickness. The Office for National Statistics (ONS) reports that over two and a half million people are currently out of work due to ill health. The rise in absenteeism is attributed to a surge in mental health challenges among younger individuals, as well as an increase in back and neck pain, potentially linked to the shift towards remote work.
Simultaneously, the ONS data indicates that wage growth continues to lag behind soaring prices, exacerbating financial strains for many. Nevertheless, the public sector experiences its highest pay increase in two decades. The first quarter of the year saw a rise in part-time and self-employed workers, boosting the employment rate. Conversely, the number of job vacancies continues to decline.
Darren Morgan, the ONS Director of Economic Statistics, noted on the BBC's Today program that the pandemic has resulted in "well over 400,000 more people outside of the labour market due to ill health," pushing the figure to over two and a half million individuals—an all-time high. He emphasised the surge in mental health conditions, particularly among young people, as well as a rise in musculoskeletal issues, potentially influenced by the shift to remote work. Additionally, there has been an increase in individuals experiencing post-viral fatigue, potentially linked to long Covid.
Out of the 33 million individuals currently employed, 2.55 million are classified as long-term sick, indicating that for every 13 working individuals, one person is unable to work due to ill health. The employment rate rose marginally to 75.9% in the first quarter, attributed to an increase in part-time and self-employed workers. However, the unemployment rate also experienced a slight increase to 3.9%.
The ONS highlighted that these shifts resulted in a continued decrease in the number of individuals who are neither employed nor seeking work. The absence of workers, who have not returned to employment following the pandemic, has been a significant factor hindering the UK economy's performance compared to other developed nations. The government views reintegration of these individuals into the workforce as pivotal for economic recovery and addressing labour shortages plaguing multiple sectors.
While recent figures demonstrate some progress in re-engaging individuals in the labour market, policymakers express concern regarding the significant number of individuals incapacitated by illness. Neil Carberry, Chief Executive at the Recruitment and Employment Confederation, commented:
These figures show some gentle progress on bringing people back to the labour market. But we should be concerned by the high number of people who are economically inactive because they are sick, and progress on tackling inactivity overall is too slow.

It is a year since the ONS reported on high worklessness, labour shortages and high inflation and too little has changed. This is holding the economy back by constraining companies' ability to grow.
Neil Carberry, Chief Executive at the Recruitment and Employment Confederation
Additional findings from the ONS report include a drop in the number of people on employers' payrolls in April, the first decline in over two years. Job vacancies experienced a tenth consecutive decline as uncertainty surrounding the economic outlook deterred recruitment. Regular pay growth, excluding bonuses, reached 6.7% in the first quarter; however, when accounting for price increases, real wages fell by 2%. Conversely, pay growth in the public sector reached 5.6%, the highest rate since 2003. March 2023 witnessed a rise in working days lost due to strikes, primarily driven by walkouts in the health and education sectors, totalling 556,000.
Despite a consistent decline in job vacancies over recent months, there are still over one million unfilled positions across various industries. The escalating health-related absenteeism poses significant challenges for both individuals and organisations. To address this pressing issue, leaders must prioritise employee well-being within their organisations, implementing comprehensive support systems and resources that foster physical and mental health. By nurturing a supportive work environment, leaders can better equip their employees to navigate ill health challenges and enhance overall productivity and satisfaction. Tina Woods, CEO & Co-Founder of Business for Health, comments:
Today's findings from the ONS should come as no surprise to those who have been tracking the UK's growing health crisis — from an NHS crippled by waiting lists to the steady decline in life satisfaction levels and the rising pressures of the cost-of-living crisis.   The nation's poor health is creating a drag on the economy now and is compromising economic growth ambitions ahead.

This should be a watershed moment for business leaders across the country. It is clear that improving employees' health and wellbeing should be a top investment priority for any business looking to retain existing staff and deliver on long-term growth ambitions. Business leaders and employers can play a key role in promoting prevention, especially in mental health, advocating health equity and tackling health disparities in the workforce.
Tina Woods, CEO & Co-Founder of Business for Health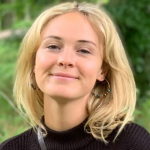 Joanne is the editor for Workplace Wellbeing Professional and Family History Zone. After obtaining a bachelors degree in English literature and media studies, Joanne went on to spend two years of her life writing and teaching English in China and Vietnam. Prior to joining Black and White Trading, Joanne was a marketing coordinator for luxury property in Brighton focusing on blog writing, photography and video creation.