A new study of office workers reveals as many as 69 percent have stopped buying expensive shop-bought salads and wraps, in favour of a classic packed lunch, with a traditional sandwich, crisps and piece of fruit combo the go-to choice.
As many as 38 percent of those who make a sarnie for the office, say they are doing it to be more frugal and save some pennies. And according to the findings, the nation is embracing classic sandwich fillings, with ham and cheese (41 percent), egg mayo (35 percent), BLT (35 percent) and tuna mayo (33 percent) the nation's top sarnie picks.
When it comes to crisps – cheese and onion (36 percent) was voted the best flavour for a packed lunch, followed by ready salted (29 percent), salt and vinegar (27 percent), prawn cocktail (20 percent) and roast chicken (19 percent).
While a banana (29 percent) and apple (21 percent) are the most popular pieces of fruits to add to your Tupperware or lunch box, according to the poll.
Seven in ten (72 percent) agree that nothing beats a classic home-made sarnie for lunch, while four in ten (45 percent) insist there has been a resurgence in the classic packed lunch, as Brits strive to save cash.
According to the poll, by Hovis, medium thickness is the best bread to use for a sarnie (a resounding 50 percent chose this over thick or thin slices), and 49 percent say it has to be a classic white loaf every time.
Mayo (40 percent), salad cream (18 percent), pickle (17 percent), English mustard (13 percent) also emerge as the top condiments, followed by chutney (12 percent), piccalilli (seven percent) and hot sauce (seven percent).
Claire Parlour, Head of Marketing at Hovis, who commissioned the research said:
The unassuming, yet scrumptious sandwich has been around for over 250 years and over that time has seen off many challenges as a lunchtime staple. No matter whatever fillings you choose, whichever way you like to cut it, and whether you can wait until lunchtime or not, it is great to see the nation's renewed enthusiasm and love for packed lunches and timeless fillings once more.
Claire Parlour, Head of Marketing at Hovis
Brits believe the best way to cut a sandwich is in half, like a rectangle (46 percent), followed by diagonal, in half (26 percent) and triangular, in quarters, (13 percent) while six percent do not slice it at all.
12.30pm is when the nation's workers sit down to lunch, taking just 35 minutes to devour it.  However, the joy that lunch brings starts two hours earlier at 10.30am when we start thinking about what we are going to eat. One in three (30 percent) confess they get so excited that they end up eating some or all of their packed lunch before lunchtime.
As the cost-of-living crisis continues to bite, it's no surprise that we are cutting back on shop bought items, including sandwiches (32 percent), coffees and teas (30 percent), take out burgers (27 percent), pastries (23 percent), takeout wraps (19 percent), fruit (19 percent) and salad bowls (16 percent).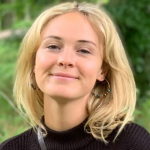 Joanne is the editor for Workplace Wellbeing Professional and Family History Zone. After obtaining a bachelors degree in English literature and media studies, Joanne went on to spend two years of her life writing and teaching English in China and Vietnam. Prior to joining Black and White Trading, Joanne was a marketing coordinator for luxury property in Brighton focusing on blog writing, photography and video creation.