Recent research has found that UK organisations have a wellbeing strategy gap.
Aon plc's 2022-2023 Global Wellbeing Survey shows among UK respondents, 74 percent said that wellbeing has increased in importance and 92 percent said their organisations have wellbeing initiatives. However, just 29 percent said wellbeing is fully integrated into their overall business and talent strategy.
UK respondents differ from other regions: 60 percent of mainland European respondents and 63 percent of global respondents reported that wellbeing has increased in importance. Additionally, the strategic gap is smaller for other regions: 38 percent of mainland European companies and 41 percent of global companies said that wellbeing is fully integrated into their overall business and talent strategy.
Letitia Rowlin, principal strategic consultant for Health Solutions at Aon in the UK, said:
A multitude of recent developments, not least the COVID-19 pandemic, has seen wellbeing become a far higher priority in UK organisations as they strive to build a more resilient workforce. Decision makers also increasingly see a link between employee wellbeing and productivity, performance and engagement. However, the UK remains behind when it comes to fully integrated strategic choices and funding.
Letitia Rowlin, principal strategic consultant, Aon
When asked why the organisation was not prioritising wellbeing, by far the largest reason in the UK was that "leaders have other focuses" at 29 percent. The next highest reason, at 14 percent, was that respondents "haven't thought about it".
The survey asked respondents which important business issues could be impacted by wellbeing initiatives. The top three UK answers were employee performance and productivity (39 percent), employee satisfaction and engagement (39 percent), and loyalty and retention (35 percent).
Letitia Rowlin commented:
Wellbeing has become a differentiator in the war for talent. Employees and candidates want to see that their employer cares, and employers who support employees' wellbeing gain in improved productivity and performance.
Aon conducted the survey of human resources and benefits leaders from more than 1,100 companies across 46 countries and multiple industries in collaboration with IPSOS, a leading global market research company, between August and November of 2022. Explore findings of Aon's 2022-2023 Global Wellbeing Survey here.
To learn more about the impact of wellbeing programmes on organisational performance, access the 2020 Global Wellbeing Survey here and listen to episode six of the "On Aon" podcast here.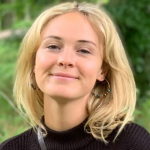 Joanne is the editor for Workplace Wellbeing Professional and Family History Zone. After obtaining a bachelors degree in English literature and media studies, Joanne went on to spend two years of her life writing and teaching English in China and Vietnam. Prior to joining Black and White Trading, Joanne was a marketing coordinator for luxury property in Brighton focusing on blog writing, photography and video creation.