The growing number of Brits out of work due to mental health conditions has prompted a surge in companies promoting wellness benefits to new recruits.
Over the past 12 months job adverts referring to wellness subsidies, budgets or discounts rose 310%, while those mentioning employee counselling services doubled (up 95%), reveals research by social media recruitment platform Socially Recruited.
Many of the companies offering well-being bonuses were in the hospitality sector, including US restaurant chain Chipotle, which provides an online wellness hub that includes licensed counselling services for employees and their dependents.
Department store Harvey Nichols and food company 2 Sisters were among other businesses that advertised counselling services to staff.
Job adverts referring to a four-day week were also up 137% as employers seek to attract candidates seeking better work-life balance.
Long-term sickness, in particular mental health conditions, has been the biggest contributor to the rise in UK's economic inactivity, with almost nine million adults neither working nor seeking work. NHS research also revealed that economically inactive and unemployed people were substantially more likely to have reported experiencing a common condition, like anxiety — the theme of next week's Mental Health Awareness Week — than those in work1 2.
In March's Budget the Government pledged to invest in mental health services as part of a £406 million funding package to help people back into employment.
Meanwhile, a recent study suggested that work-related stress was costing the UK economy £28 billion a year, with a fifth of adults describing themselves as "struggling" with mental health and nearly half of employees overwhelmed and uncertain about their future.
Ben Keighley, founder of Socially Recruited, said:
The emergence of recent employee trends such as 'quiet quitting' and 'bare minimum Mondays', particularly among younger generations, suggests a pushback against a culture where they can feel overworked and underappreciated.

Delivering corporate wellness and mental health benefits is a positive move that will not only help individual workers but have a collective impact and likely pay dividends by engendering greater productivity and loyalty.
Ben Keighley, founder of Socially Recruited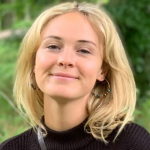 Joanne is the editor for Workplace Wellbeing Professional and Family History Zone. After obtaining a bachelors degree in English literature and media studies, Joanne went on to spend two years of her life writing and teaching English in China and Vietnam. Prior to joining Black and White Trading, Joanne was a marketing coordinator for luxury property in Brighton focusing on blog writing, photography and video creation.