With new statistics revealing 7 in 10 working parents in senior roles are looking for alternative employment, UK law firm, Burges Salmon, has now added specialist coaching for parents returning to the workplace to its list of family-friendly benefits. 
Working in partnership with leading provider of Work+Family Solutions, Bright Horizons, Burges Salmon has implemented a range of new work and family policies including coaching for parents.
Parental Leave Coaching is designed to welcome employees returning from parental or adoption leave. Employees are given four Bright Horizons coaching sessions, all of which are crafted to help individuals think strategically and practically about integrating their career and family life.
Robert Halton, Chief People Officer at Burges Salmon, commented:
As an inclusive employer, we ensure that our people coming back from family leave receive the support they need to aid their successful return. Bright Horizons is a leader in this field and the feedback we receive on both the coaching experience itself and the positive impact the coaching has achieved is fantastic.
Robert Halton, Chief People Officer at Burges Salmon
100% of those who have taken part to-date felt the programme encouraged their commitment to the law firm.
Coaching and Development is one of the key solutions provided by Bright Horizons to help businesses support employees through life's big transitions. Companies like Burges Salmon are equipped with the tools to help retain existing talent, maintain team collaboration and provide a positive experience for those returning from leave.
Denise Priest, Executive Director Work + Family Solutions at Bright Horizons, commented:
There is a huge overlap between what happens at home and work, but connecting the two allows people from all backgrounds to flourish at work. It also addresses the urgent need for a qualified and talented workforce. Burges Salmon recognises that supporting employees' parental journeys plays a key role in helping them achieve their goals and it's inspiring to hear the positive impact the programme has had so far.
Denise Priest, Executive Director Work + Family Solutions at Bright Horizons
Burges Salmon is already widely recognised as an inclusive employer, with accolades including RollOnFriday's "Best Law Firm to Work at 2023".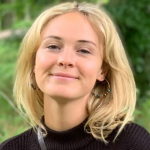 Joanne is the editor for Workplace Wellbeing Professional and Family History Zone. After obtaining a bachelors degree in English literature and media studies, Joanne went on to spend two years of her life writing and teaching English in China and Vietnam. Prior to joining Black and White Trading, Joanne was a marketing coordinator for luxury property in Brighton focusing on blog writing, photography and video creation.