On Monday 9th November, Workplace Wellbeing Professional had the chance to speak with entrepreneur and wellbeing advocate Carlene Jackson. Carlene is the CEO of Brighton-based tech company Cloud9 Insight, which provides businesses with cloud-based CRM software systems.
Carlene puts workplace culture front and centre of business growth. She is frequently featured in the media for her expertise and opinions on tech and entrepreneurship, as well as her views on company culture, employee wellbeing and neurodiversity. HR, culture and people are among Carlene's favourite subjects. Below is some of her expert advice for employers to better support staff in the workplace:
As a strong advocate for workplace culture and wellbeing, why do you think wellbeing is so important for organisations?
Since the pandemic and oncoming recession, companies need to focus on performance. I think that people are performing at their best, and being most productive, when they're in a good place from a wellbeing perspective.
I have high degrees of empathy, and I care massively about my employees, but no matter what I do for them in the workplace, what I've realised is that most things that impact performance and mindset is outside of work. So, if you want to make an impact, employers need to give more time.
I have seen many employees who need to take time off to care for or be with a loved one. I think that a lot of workplaces are quite strict in terms of holiday. But imagine if you have a wife who has just had her first baby; you're not going to be in your best place. It's important to be flexible in terms of people having time off.
From our experience, after we realised that having more time off was a good idea, we introduced a new concept called enrichment days. Employees need to book a month in advance and are then entitled to have the day off. (I always joke that employees aren't allowed to book it for an interview!) The purpose of the day is to use it for something positive, such as a long weekend, spending time with family, looking for a house or a car, watching your kids play at sports day, or simply a nice memory. As someone who has sacrificed seeing my kids participate in sports days, I think this is important.
The biggest thing is about giving people time to deal with stuff that is happening outside of the business that may be impacting people from reaching their full potential and productivity.
Aside from welcoming pets into the office, what kind of wellbeing strategies have you implemented into your own business?
We have our own version of the four-day work week called the '9-day fortnight'. The pay is the same, but we have reduced the average working hours from 37.5 hours per week to 35.5. Every second Friday the majority of the company have the same Friday off. A lot of people talk about using this time for home admin and catching up so they can enjoy their weekend for quality time with family or friends.
Additionally, every penultimate Friday, we have a silk day. This day is purely for strategy, no client work is allowed. On silk days we work on innovation, learning/training, and also community and charity.
In our tech work, it can be very demanding. You need to allow employees time to build if they want to advance their career. Having the silk day in the working hours allows the time for learning, keeping up to date and to get involved in whatever the company is doing. Its motivational for people because often they feel their voice isn't heard, and the silk day can give them a sense of greater meaning in the workplace.
We always welcome people in the office to share their ideas for charity community work. I think that charity work is becoming really important to people. They don't just want to have a job and make money, they want to feel like they have a sense of purpose with what they do. So, we've connected up with the local young homeless charity and have participated in several events including football and Tough Mudder. In December, we're doing a company sleepout. These implementations allow people the opportunity to work across teams as well.
Of course, I can see having dogs in your office worked wonders for reducing stress levels. Have you ever proposed an idea that didn't work so well and what did you learn from it? Did something positive come out at the end?
Yes. One of my greatest passions is cooking. In our office, we have a fully functioning kitchen with an oven. I encourage the team to cook because eating good food is very beneficial to health, while sandwiches and other processed foods won't make you feel great.
However, one of my employees was cooking and she left for what she thought was a short moment, abandoning her cooking, and forgot all about it. The fire alarm went off and the whole building had to be evacuated!
Ever since then, I make sure employees have the right training, as we are in an office and need to be safe. We have a fan and open the windows and ensure staff don't leave food unattended. Luckily there was no fire, but it was certainly enough to let off the smoke detector!
Nonetheless, I continue to encourage people to cook. We organise team cooking lessons. My belief about cooking is that it brings people together from different capabilities and cultures among the office. It's a great opportunity to share an insight to their backgrounds and what their parents might have taught them. It also allows employees to show another side, sometimes a really competitive side!
In this new world of hybrid working, what advice would you give to employers supporting a hybrid workforce? 
I think you need to consider the experience of the employee. If they are very capable and experienced, encouraging them to work from home could increase their productivity as many workers can get distracted in the workplace.
At the same time, I think you should allow flexibility for employees to work out what works best for them. Some roles, such as marketing, are highly creative, and therefore would probably be better for employees to be in the office so they can be creative together. Employers could assign a certain day of the week for this to happen.
One thing that you lose massively with hybrid working is the spontaneity and creativity that comes from being together. Often in an unplanned situation, there's watercooler moments of: "I've got this problem, do you have any ideas?" Or, "what are you working on?". In this sense, I think there's no substitute for coming into the office.
Employees who are in a newer role definitely need to come into the office more. While they might think they don't need to, there is so much that is lost in terms of body language, how people sit in a meeting, how a meeting is conducted, that if people are not present, they are missing a whole part of communication skills that actually are likely to serve them well later in life. If an employee's only experience of the world is behind a screen at their desk, they're losing out.
It's important that newer employees are surrounded by unofficial opportunities to learn from more experienced staff. Senior members may overhear them and say, "that was interesting, have you thought about doing it this way instead?", leading to a better outcome.
The other thing I would do is organise more off sight fun things. We've gone on a train trip to Paris for example. If you can make people feel special and bring them together, having those connections and network means that when you get stuck, you can ask somebody for help. This is important.
I've interviewed a lot of people lately who have said one of the reasons they want to leave is because when they phone their employer they said, "that's not my job". There's no emotional connection. I'd like to think this never happens in my office. It makes me realise the importance of having relationships so you can get a lot more done. Don't underestimate it.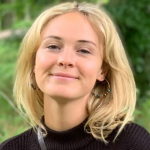 Joanne is the editor for Workplace Wellbeing Professional and has a keen interest in promoting the safety and wellbeing of the global workforce. After earning a bachelor's degree in English literature and media studies, she taught English in China and Vietnam for two years. Before joining Work Well Pro, Joanne worked as a marketing coordinator for luxury property, where her responsibilities included blog writing, photography, and video creation.