Getting your employees away from their screens and actively urging them to take their lunch breaks not only benefits them, but it also benefits you as the employer.
We can so easily fall into that rut of sitting at our desks 9 – 5 and forgetting there's a whole world going on around us that can actually help us with our productivity, mental and physical well-being. Sometimes, those same four walls can generate the same old outcomes.
Away from the screens and into the natural world
According to many sources, including The Daily Mail: 'surveys reported that between 66% and 82% of workers don't always take their breaks' with 'over a third of the UK population not ever taking lunch breaks' (Business Leader).
People are too busy or have too much on to take a break and this has a negative impact on your creative outlet. It is incredible how 20 minutes of fresh air and getting away from the same four walls can have on your mindset and on your soul! We are so used to being stuck to computer screens like computers and mobiles, that we miss some of the most naturally beautiful things going on around us! Being trapped inside can kill the creative process and make us feel trapped which is something a lot of people struggle with in the corporate world, so let's change this new habit that's being adopted.
‌Create an environment where taking your lunch is a necessity and not frowned upon
By stepping away from our desk and being in a new environment, it can do wonders for new inspiration, boosts creative thinking and allows us to take in what is around us. We can always take inspiration from nature and the natural world around us to inspire creativity in our own lives; beauty is all around us, so let's use that to fuel our life choices, decisions and direction. Think about how many thoughts go through your mind when you are outside working? These new thoughts come to us that can't come from staring at a computer screen.
Encourage your employees to get outside and maybe even start a walk/cycle to work scheme
. The same four walls in our office won't spark incredible things all of the time, so it's important you get out and experience the world, people and the things around you. By doing this we gain new perspectives and collect inspiration from the things around us: What can you hear, feel, taste, smell and see around you? What problems could you solve now your head is clear and out in nature?
In order to develop ideas and think of creative solutions and ideas in business, we need to change our environment so that we can be even more productive within our roles.
If you think about the last walk you took on your own without your phone, or the last shower you took – it's normally in these times that amazing brain waves come to us – now we have no distractions or outside 'noise'.
Encourage creativity within your teams through creative brainstorm sessions in the great outdoors.
Whether or not you are in a typical 'creative role' everyone has the ability to be creative. The definition of creative: 'relating to or involving the use of the imagination or original ideas to create something.' People often say 'Oh, I'm not creative' – but creativity comes in many forms :
Creative thinking – thinking of alternative solutions and problem solving outside of the box
Creative leadership – creating new ways of working and allowing creative ideas to be expressed by staff
Creative writing – not just churning out run of the mill content, but really thinking about getting into the minds of your audience
Creative energy – having a drive to create and break boundaries by bringing joy and connecting with others around you
Get a monthly or quarterly brainstorm session added into the diary away from their desks so people can bring new ideas to the table and exercise that creativity in whichever form they can, in a new and inspiring environment.
We can always take inspiration from nature, people and the natural world around us to inspire creativity in our own lives and businesses; beauty is all around us, so let's use that to fuel our life choices, decisions and direction.
Less screens, more lunch breaks
It will get the creative juices flowing! Taking just 20 minutes in nature can do wonders for both the employee (soul food) and the employer (employee productivity). Change unleashes people's creative energy!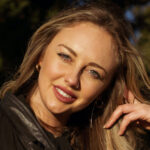 Emily Gardiner is the Founder of Free To Be Creative – branding identity and design architects that give businesses an injection of creativity and a distinct identity through scroll-stopping design; breathing life into ideas to make them a reality. Emily works with passionate business owners and agencies to express themselves and their personality so that people eat, sleep and breathe their brand.