With the rising popularity of environmental, social, and governance ESG reporting, a greater amount of responsibility is inevitably placed on the shoulders of HR teams to deliver results.
ESG reporting seeks to keep businesses accountable for their impact on society and the environment. A good ESG report should provide a framework of accountability and transparency, and HR leaders should use the report as a steering point to develop strategies to ensure key performance indicators are hit. This, in turn, should help HR teams to prioritise wellbeing projects that really make an impact.
Safety First
Firstly, the safety of employees and workers must be the priority for any industry, especially in compliance with local laws and regulations. This is a 'hygiene factor', and must be ingrained across the business – and addressed within the ESG strategy – before other wellbeing projects can be introduced.
A structured management approach to controlling safety risks in operations should be undertaken and outlined in the report. By clearly defining the goals, putting in place formal processes to assess and manage risk, monitoring safety standards, defining clear escalation loops, you emphasise the importance of safety in the company corporate culture.
Values
The next step is to define and understand the principles and values underpinning your company's ESG reporting. Ideally, leaders in the HR and people teams have been included in preparing the report, making sure that there is alignment and that appropriate metrics have been put into place. Refer back to these values and metrics when developing or reviewing policy and processes to examine whether they are cohesive.
Likewise, properly defining these values will help your recruitment and talent attraction teams to create an attractive Employer Value Proposition – an outline of reasons to work for your company. This will help attract top talent, retain team members, and increase productivity.
What To Measure
It can be difficult to know what to tackle to improve wellbeing without any input from the workforce you are trying to support. This is where employee feedback should be the priority: pull this data together and use it to shape a wellbeing strategy that makes a difference to your workforce. Within large multinational operations, it is worth investing in a platform that will allow you to do this quickly and easily.
Some key wellbeing issues to consider measuring are purpose, belonging, autonomy, and reward – but they may be different depending on the sector and company size.
Collecting The Data
At Flix, we do this through a monthly survey using PeakOn, a continuous listening platform that gives real-time insights. Questions on various topics are scored on a scale of 1 – 10, as well as allowing space for open responses. Platforms like this encourage honesty and transparency because responses are anonymous, and employees will feel more able to share their views without fear of judgment or repercussions.
Best Practice
However, engagement tools are only as good as the people who use them. Training should be provided for anyone who will oversee or analyse the data, to ensure they understand its power and wield it appropriately.
For example, data should only be shared or discussed in its aggregate, confidential form when several employees participate. External platforms can help maintain this integrity, as there is no way to see who has answered. Nonetheless, it's imperative that people managers treat the data sensitively so as not to single employees out.
Taking Action
Once you have the data, it's time to take action based on the analysis. HR managers, People Insight Managers, and corporate executives should evaluate the data, making sure, as mentioned, to refer back to the company's core values. Likely, this will help identify issues in their infancy, allowing you to address the root cause before they grow. Findings should be shared with management and employees, alongside action points linked to employee feedback.
Tackle issues where there is most agreement – this will naturally have the most impact. Take time to discuss solutions among team members and be transparent about what is changing. Then of course, be sure to measure the impact of any new processes or initiatives through the employee engagement channels mentioned.
Benchmarking
Finally, seek to include the data findings in the next ESG report. This will offer a valuable point in time to refer back to – a benchmark for your company to compare against, even if just comparing previous scores.
Customer service industry professionals will be familiar with the net promoter score (NPS) as a market research metric, which puts a figure on customer loyalty. The same system can be used for the workforce – employee NPS is defined as a combined measure of employee satisfaction level, company recommendation, and retention intention.
For an even stronger benchmarking standard, an external employee engagement tool can be used to measure your company against other companies in your industry because standardised metrics are being used across the board.
ESG reporting is a real opportunity to define your company's values, engage with staff, and showcase the impact of initiatives through tangible results, and this is ultimately what will boost wellbeing.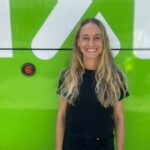 Karin Bostrand-Mooney is Senior People Partner for FlixBus in the UK, Benelux and the Nordics. FlixBus is a leading travel tech company, spanning 42 countries across Europe, America, Brazil and Canada. Flix employs more than 5,500 people around the world.