The term "neurodiversity" refers to the inherent differences in how the human brain functions, including various conditions such as autism, ADHD, dyslexia and other neurological variations. Neurodiverse people possess distinctive talents and unparalleled viewpoints that can significantly benefit the workplace. However, they also face challenges when navigating conventional work environments not tailored to their specific needs.
As a result, neurodiverse people are more likely to be unemployed than people with any other disability. In fact, as high as 40% of neurodivergent adults are unemployed – three times the rate for people with disability and eight times the rate for people without disabilities. Moreover, 88% of employees with hidden disabilities such as neurodiversity, choose not to disclose this information at work for fear of discrimination, and not without reason – those that do often end up being isolated, resulting in lower morale and engagement.
Therefore, employers should focus on creating a culture of inclusion and support where all employees can thrive, including those who are neurodiverse.
START AT THE BEGINNING –  INCLUSIVE RECRUITMENT AND ONBOARDING PROCESSES
To attract neurodiverse people to your organisation, it's important to not only appreciate diversity, but also establish an inclusive hiring process and workplace atmosphere as well as accommodate individuals with different neurological profiles. Highlighting your company's dedication to Diversity, Equality and Inclusion (DE&I) initiatives in job postings and across online platforms helps recruit candidates from diverse backgrounds. Additionally, evaluating the language used in job advertisements and recruitment procedures regularly ensures that they are prejudice-free and centred on the skill sets and competencies required for a position.
The needs of neurodiverse people might greatly differ from neurotypical candidates. Accommodating those during the interview process can help demonstrate an organisation's attentiveness. This could be requesting job applicants to specify any needs for interviews and provide extra time and assistance if required. By doing so, organisations communicate that their culture is equitable and inclusive.
Once a new employee is hired, continue providing support to foster a sense of value and belonging. For example, an organisation can implement Personal Passports – a confidential document that can be shared with line managers – to document any additional requirements an employee may have or adjustments they may need. As a result, line managers are well-informed and can provide the appropriate support to their employees from the very start to improve opportunities for success.
As needs can change over time, it's important to consistently evaluate equity measures and check in with employees to sustain employee engagement.
USING POSITIVE, INCLUSIVE LANGUAGE AND PROMOTING INITIATIVES THAT HELP RAISE AWARENESS AND INCLUSION
Allocating resources and investing in training that supports inclusion fosters a positive, welcoming workplace atmosphere – one that embraces diversity and enables all employees to contribute their distinct insights and abilities to the team. For example, by committing to continuous DE&I training for all staff members, it's possible to raise awareness and promote consistent conversation, helping reduce any stigma.
Achieving a genuinely inclusive workplace demands constant effort and dedication from everyone. Research shows that companies with more diverse workforces perform better and are more equipped to address the needs of our diverse society. In fact, companies with strong DE&I strategies. Collaboratively advocating for and developing an inclusive environment enables the creation of a more robust and resilient workforce, better prepared to face the challenges presented by today's rapidly evolving business landscape.
CREATING ACCOMMODATIONS IN THE WORKPLACE
A comfortable and inclusive workplace enhances productivity and engagement, so it's important to have regular communication with neurodiverse colleagues about their preferences and requirements. This may include reducing distractions, providing quiet working spaces, implementing daily routines, allowing adequate time for tasks and providing information in advance of meetings to give colleagues sufficient time to prepare. Managers should also be mindful of the channels and format of information sharing to ensure inclusivity.
BEING PATIENT AND AWARE OF COMMUNICATION PROCESSES
 Nevertheless, creating a culture of inclusion goes beyond simply urging managers and employees to offer reasonable accommodations. It's vital to raise awareness of communication styles, which include avoiding jokes, sarcasm or vague statements and, instead, employing clear and straightforward communication. While some communication aspects might seem evident to neurotypical employees, providing guidance on proper communication etiquette helps every workforce member to be well-informed and feel comfortable discussing topics within teams.
BEING AWARE OF LEGAL OBLIGATIONS
Finally, it's important to fulfil legal obligations to guarantee that neurodivergent employees do not face discrimination. For example, conducting disability awareness training for all employees can foster a greater understanding of neurodiversity. Employees should also provide assistive technology and software to aid communication and task completion. In addition, offering flexible work options and including neurodivergent employees in decision-making processes will establish a more equitable work environment.
Appointing a designated Diversity and Inclusion officer to supervise these strategies can ensure that the proper knowledge and expertise are applied to people-centric approaches, helping create psychologically safe environments. In addition, regular assessments and evaluations of strategies' effectiveness can pinpoint areas needing improvement and guarantee that neurodivergent employees receive the support they need in the workplace. Some organisations go one step further and become Disability Confident – a government scheme that helps employers become committed to hiring and retaining employees with disabilities.
However, fostering neurodiversity in the workplace goes beyond legal compliance. Instead, it serves as a strategic business choice that enhances an organisation by creating a diverse workforce and an inclusive culture where everyone can contribute effectively. Employers can facilitate their neurodiverse employees by offering support from the beginning, encouraging positive language and awareness, accommodating specific needs, demonstrating patience, understanding communication styles and meeting legal obligations. Achieving success can help create positive examples and stories, with organisations encouraging neurodiverse employees to become ambassadors and attract other neurodiverse candidates.
Where organisations are still unsure if they have a suitable environment for neurodiverse employees, utilising HR consultancy and policy reviews helps effectively implement strategies, ensuring a diverse, well-supported, and empowered workforce capable of reaching its full potential.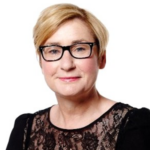 Pat Ashworth is a highly experienced Learning and Development specialist with 25+ years of expertise in coaching and developing individuals in various sectors. Pat actively contributes to the Government's Disability Confident Professional Advisors Group (PAG) and was part of the Disability Confident Task Force, shaping new standards and resources. She's recognized as one of the UK's Most Influential HR Leaders, supporting mental health initiatives during COVID-19. Pat's expertise as a Chartered member of the CIPD, the British Psychological Society, and a Mental Health First Aid Instructor strengthens AdviserPlus in disability inclusion strategies.