While bringing a baby into the world can mean a time of incredible joy, it also brings a multitude of challenges that can impact hugely on new parents' well-being. Employers can play a key role in providing maternity support for new and expectant parents among their workforce – and the need to do so is only increasing.
Apart from parents having to get used to their new role and grappling with everything from lack of sleep to feeding issues, the circumstances of a new member of the family's arrival in the world may well have added to the stress.
The latest NHS maternity statistics show a record 20% of deliveries were via C-section, up from 12% ten years ago, and inductions are at 33%, their second highest level in ten years, which can mean a more stressful, tense or painful start to parenthood. Employers investing in support for new and expectant parents to help them navigate the changes a new member of the family brings can really make an enormous difference, especially before and right after the birth of a baby.
Parenthood issues
The challenges of pregnancy, labour and new parenthood can come as a huge shock. Parents may struggle to adjust to their new role at home and then eventually back at work too. Many will want or need to work, so by providing holistic support from day one right through to those first few weeks and months at work, employers can make this particular milestone a much easier transition.
From feeding issues to the 'baby-blues' to lack of sleep and the struggle to juggle work, home and baby, new parents can often suffer from depression. One in five women experience a mental health problem during the perinatal period, while one in eight partners find their mental health suffers too.
Whatever the circumstances of a new baby entering the world, it can be a daunting time for the parents as they grapple with how best to care for their new baby and themselves. Being induced or having a C-section could mean the birth mother needs additional physical or mental support but in fact, any new parent could struggle with the practical and emotional considerations at this time.
Why maternity support matters
Not only does effective support positively impact parents' physical and emotional well-being, but it also has a dramatic effect on employee retention and the gender pay gap. In England, services that used to be there for new and expectant parents aren't as available anymore, at a time of significant life change – and a lack of support can lead to problems.
Employees who have little support from their workplace or employer are less likely to return after maternity or paternity leave. However, the converse is also true: organisations that offer support via employee benefits and seek to maintain a connection are usually highly thought of and more likely to retain new parents as productive members of the workforce.
Sadly over one third of UK professionals feel employers are not doing enough to support new parents. Our own research shows that only one in five employers offer new parents support with breastfeeding, for example, which, combined with post-partum hormones and sleep deprivation, can be a testing time mentally as well as emotionally.
Employers who think sending a bunch of congratulatory flowers and the odd email to 'check in' is enough contact with a new parent in their workforce should think again. New parents need practical, realistic, expert support through this life-changing event. And not providing it can have a detrimental impact on an employer's ability to both attract and retain staff of child-bearing age, as well as reflecting poorly on their overall brand.
And support shouldn't just extend to new or expectant parents. With around 1 in 6 couples having difficulty conceiving, prospective parents going through a fertility journey often face a lonely and anxious time. Fertility issues can be so all-consuming that employees may feel they are unable to remain in the workplace – unless they feel genuinely supported by their employer. Yet thirty-one per cent of employers have no plans to offer fertility support, according to Peppy's own research undertaken in 2022.
Whatever the route to parenthood, being supported lifts that burden and can also engender loyalty and engagement in the long term. It also helps companies recruit and retain this important demographic, saving the cost and disruption of finding and training new people.
What does support look like?
The best employer maternity support will help from conception to the birth, both practically and emotionally, during the immediate postpartum phase and beyond, providing a real lifeline for new parents.
Much of the workplace support available is aimed at the birth mother but it is vital that organisations provide support for families of all shapes and sizes. For example, the birth can also increase the risk of mental health issues developing in fathers and co-parents too.
Employers who provide genuine family-friendly support from fertility through to birth and beyond, and help their staff feel confident and comfortable discussing these issues, will create a caring and inclusive environment – one in which staff are more likely to want to return to after starting their family.
Breast feeding
Feeding support should not only cover practical help such as advice and information from an expert on how to get started and how to create a feeding plan, but it also needs to cover common problems such as trouble latching on, dealing with allergies, colic and reflux.
Mental health
Offer access to specialist mental wellbeing practitioners, so your people always have someone to talk to when they need it.
Fertility support
Workplace fertility support can cover many areas, including IVF, family planning and adoption through to conditions such as endometriosis that can affect fertility.
Accessibility
Providing support via digital solutions, like Peppy, means new parents can access confidential expert information and support, whenever they need it – a trusted lifeline during what can be a time of great stress and loneliness.
Community
Themed group calls and group chats, moderated by an expert, can provide the sharing of information as well as community with fellow parents. Small live group events featuring guest speakers, presented virtually, can give your staff the opportunity to learn about pregnancy, giving birth and parenthood.
Employers who provide genuine family-friendly support from fertility through to birth and beyond, and help their staff feel confident and comfortable discussing these issues will create a caring and inclusive environment – one in which staff are more likely to want to return to after starting their family.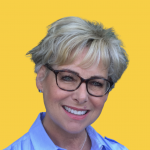 Vicky has been a practising midwife for 37 years and has worked in all areas of clinical midwifery practice, including management, practice development and the Statutory Supervision of Midwives. As MIDIRS Head of Midwifery and then Professional & Policy Lead and National Small Wonders Facilitator, at the national parent and child health charity, Best Beginnings, Vicky gained extensive experience in writing evidence-based content for professionals and consumers and multi-media publishing. Vicky's specialist area of interest is Postnatal & Neonatal Care and the Transition to Parenthood.