Mental Health Awareness Week UK is an annual event in the UK that aims to raise awareness and start conversations about mental health.
It was first launched by the Mental Health Foundation in 2001 and will take place from Monday, May 15 2023 to Sunday, May 21 2023. The official theme for this year, as set by the Mental Health Foundation, is 'anxiety'.
The purpose of Mental Health Awareness Week is to encourage people to talk openly about their mental health, reduce the stigma surrounding mental illness, and promote the importance of seeking help when needed. The week provides an opportunity for individuals, organisations, and communities to come together to share information and resources, raise awareness, and take action to improve mental health and wellbeing.
Celebrating Mental Health Awareness Week is important because mental health is an essential part of our overall wellbeing. Mental health issues affect millions of people across the UK, and by raising awareness and promoting positive mental health practices, we can reduce the stigma associated with mental illness and improve access to mental health services and support.
By working together to raise awareness and promote positive mental health, we can create a society where mental health is valued, respected, and prioritised.
Want to get involved? Here are some ideas:
Share information: Use social media or other communication channels to share information about Mental Health Awareness Week and the importance of mental health. You can use hashtags such as #mentalhealthawarenessweek and #MHAW to join the conversation and raise awareness.
Attend events: Many organisations and communities host Mental Health Awareness Week events. Attend these events to learn more about mental health and connect with others who are passionate about mental health awareness.
Donate: Consider donating to a mental health charity or organisation that supports mental health awareness and advocacy.
Take care of your own mental health: Taking care of your own mental health is important to supporting mental health awareness. Prioritise self-care activities such as exercise, mindfulness, and spending time with loved ones.
Start a conversation: Use Mental Health Awareness Week as an opportunity to start a conversation about mental health with friends, family, or colleagues. Share your own experiences or ask others about their experiences with mental health.
Advocate for mental health: Use your voice to advocate for mental health. Contact your elected officials to urge them to prioritise mental health funding and policies.
Find out more:
https://www.mentalhealth.org.uk/our-work/public-engagement/mental-health-awareness-week
https://www.rethink.org/get-involved/awareness-days-and-events/mental-health-awareness-week/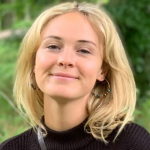 Joanne is the editor for Workplace Wellbeing Professional and Family History Zone. After obtaining a bachelors degree in English literature and media studies, Joanne went on to spend two years of her life writing and teaching English in China and Vietnam. Prior to joining Black and White Trading, Joanne was a marketing coordinator for luxury property in Brighton focusing on blog writing, photography and video creation.