In the wake of a 25% increase in anxiety and depression worldwide, triggered by the pandemic and compounded by economic instability and digital overload, strategies and policies that protect employee wellbeing must now be the norm.
In a modern working environment, Employee Wellbeing Services are essential to maintain a business, with specific mental health support improving workplace culture and staff productivity. David McCormack, CEO of HIVE360 says:
Employers have a moral responsibility to their workforce to commit to supporting their health and wellbeing for the long-term. Indeed, 83% of employees say they believe their wellbeing at work is just as important as their salary.

A recent Mental Health Foundation and London School of Economics and Political Science survey estimates that mental health problems now cost the UK economy around £118billion a year, and the cost in the workplace is estimated to be in excess of £2,000 per employee per year, with 59% of long-term absence caused by stress and mental illness .
As a result of these statistics, HIVE360 shares its eight steps for a long-term approach to employee wellbeing:
Provide the right investment for mental health
There can be no 'one size fits all' answer to employee mental health. Long-term, companies need to make the right investment in a range of services to support staff, starting with training mental health first aiders and offering employee wellbeing programmes.
Support career wellbeing.
A lack of purpose and direction at work can deteriorate employee wellbeing over time. Establish career wellbeing by providing Employee Training Solutions, outlining a clear job progression, and offering meaningful responsibilities.
Create a positive community.
Cultivating a more Inclusive and Diverse Workspace will take time, but it's an effective way of making the workplace a supportive environment for employees.
Build openness.
Work should be safe space for open and honest discussions about employee mental health. Supported by providing managers with mental health resources, offer employees self-assessments and questionnaires, and encourage co-workers to reach out if they need to talk.
Emphasis job security.
The cost of living crisis is having a huge impact on the financial wellbeing, as well as anxiety and overall mental health, and so it is essential employees feel valued for their work and that their job is safe. Free tools and resources on budgeting and household finances planning can help ease employee worries, alongside staff recognition programmes, and clear career and promotion pathways.
Work-Life balance.
One of the best methods for supporting long-term mental health is to listen to what your employees want from work. Support initiatives that improve their work-life balance, such as hybrid working practices, employee wellbeing days, or even newer options like a 4-Day work week, allow staff to take the time they need to look after their wellbeing.
Track results.
Staff wellbeing and employee engagement work hand in hand. Measuring and tracking engagement can be great for supporting wellbeing services, by identifying what works and what employees want, to enable modifications and enhancements to how a business approaches employee support.
Employee benefits.
Have an employee benefits package that offers relevant, new and exciting discounts and services. This should be in-tune with discounts and savings on everyday bills and expenses to help ease financial worries. This reminds staff that they are valued.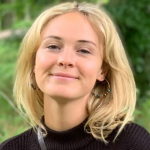 Joanne is the editor for Workplace Wellbeing Professional and Family History Zone. After obtaining a bachelors degree in English literature and media studies, Joanne went on to spend two years of her life writing and teaching English in China and Vietnam. Prior to joining Black and White Trading, Joanne was a marketing coordinator for luxury property in Brighton focusing on blog writing, photography and video creation.