New research has revealed high levels of stress across the office-based UK workforce which has led to a significant number of workers reporting physical pain as a result.
In the survey, conducted by digital payments provider Equals Money, of 1,500 UK office workers, 90% of respondents claim they feel stressed at work, with 18% saying they were stressed "all the time" at work. Leading causes of this stress included work overload (56%), lack of communication (31%), and bad management (28%).
With responses from all levels of seniority, from junior members through to business owners and managing directors, all workers found managing finances a distraction from their other priorities, showing the need for a more efficient solution.
Ian Strafford-Taylor, Co-Founder and Chief Executive Officer of Equals Money, commented:
The research clearly shows that UK workers are under a significant amount of stress – from overloaded work schedules to the day-to-day worries of running a business. This stress is causing staff to take leave and even search for different jobs, which creates efficiency and profitability issues for businesses.
Ian Strafford-Taylor, Co-Founder and Chief Executive Officer of Equals Money
Nearly a third (32%) attributed their stress to managing daily financial tasks like filing expenses, invoicing clients, and receiving and paying invoices.
The statistics spell out a dire warning for employers with retention concerns: over three-quarters (76%) of workers said workplace stress has made them want to look for a new job, with 29% actively looking. It's also costing businesses precious time and money, as almost 60% said that workplace stress had caused them to take time off. When businesses are under pressure, a high level of stress makes the workforce less efficient and unable to work to the best of their ability.
88% of the office workers surveyed suffer from some form of physical pain (back, neck or joint pain) while at work – and this is having a knock-on effect on their quality of life. Over a third (36%) claim that pain distracts them from their job and a quarter (25%) said pain prevents them from enjoying activities outside of work.
Although stress-induced pain is being attributed to the workplace, most employees are having to find their own relief. When it comes to managing pain, 31% are actively taking painkillers and 47% use a chiropractor. However, almost half (49%) are not offered a chiropractor as part of a workplace benefit scheme.
Juliette Hobson, professional chiropractor, commented:
A lot of my patients forget how connected our mental and physical health is, with one often affecting the other. When we're stressed it causes our body to think it's in danger, sending signals around the body which can stop our muscles around the lower back working properly, causing back pain.

In turn, ongoing physical pains can have an impact on our mental health. One way to stop this cycle, and help reduce stress, is if you treat any pain that may come as a result of this early on. To keep body aches and pains at bay make sure you're standing up from your desk and doing a short 10-minute walk regularly, do body stretches, and keep hydrated as this keeps joints lubricated and the mind refreshed. You can also reach out to a local chiropractor should the pain continue.
Juliette Hobson, professional chiropractor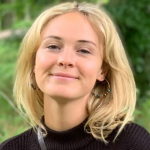 Joanne is the editor for Workplace Wellbeing Professional and has a keen interest in promoting the safety and wellbeing of the global workforce. After earning a bachelor's degree in English literature and media studies, she taught English in China and Vietnam for two years. Before joining Work Well Pro, Joanne worked as a marketing coordinator for luxury property, where her responsibilities included blog writing, photography, and video creation.