New research from the American Psychological Association has revealed that anger elicits the best work-based performance compared to joy, sadness or neutrality. However, workplace experts dispute this by explaining why anger shouldn't be a motivating factor in the workplace.
Google searches have shown a 10% increase in UK searches for 'employee motivation' as employers continue to search for ways to keep their workforce on-task and thriving – which is especially important to consider during Well-being at Work Week.
Despite the latest advice to get angry, HR experts advise employers to consider employee well-being as a motivating factor, instead. While the 'hulk-mode' may have been proven by new scientific studies to be great for work performance, employee well-being has been proven time and time again to work best long term.
Neil Finegan from DLC Training, an expert in learning and development, comments,
Creating direct negative connotations when it comes to work tasks, working relationships or just work in general will, in the long run, cause employees to have the same emotions and feelings towards their job role overall. Instead, by promoting a positive work environment and creating a culture of well-being, employers will create a safe space for employees to thrive and thus this will impact the way they work.
Neil Finegan, DLC Training
According to Finnegan, even if you're a remote company there are key ways you can create a positive work culture. The main tips are:
Foster Positive Work/Life Balance
Work should not be all-consuming, regardless of what industry, role or sector you work in. Whether you're an employer or an employee, you should be finding a healthy balance between work and life so you can find enjoyment in what you do, too. This can be done by blocking out working hours in your calendar, making the best use of your company's annual leave policy or closely monitoring work capacity to ensure no one is overworked.
Promote Collaboration Wherever Possible
Encouraging teams to work together, even virtually, is imperative to creating a positive culture, one where employees feel they can rely on those around them, ask questions and have a safe learning space to be built up by those whom they work with.
Cheer Your Team On
Take time to celebrate the wins of the team, whether this is an email, a quick video call or a Slack message, taking time to acknowledge the good helps build the team up and spurs the whole team to positively reinforce each other – the perfect foundations for a positive work culture.
Prioritise Professional Development
It's important employees feel understood for a positive culture. By prioritising professional development, you'll show your staff that their future and growth are important to the business which will help retain talent. This can be done by listening to their training needs, investing in leadership and management courses to help them move up the career ladder or by creating personal development plans with them to offer guidance and support on their next steps. A workforce that feels their future is well looked after is less likely to look elsewhere for a job and will invest in a workplace that chooses to invest in them.
Build Relationships
Make time, albeit virtually, for those day-to-day conversations that build working relationships outside of the job. Simply taking an interest in colleagues, asking about their lives, and learning about their home life and their hobbies can help build relationships that can help bridge the gap for remote workers and create the right culture.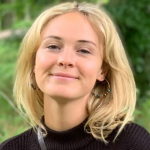 Joanne is the editor for Workplace Wellbeing Professional and has a keen interest in promoting the safety and wellbeing of the global workforce. After earning a bachelor's degree in English literature and media studies, she taught English in China and Vietnam for two years. Before joining Work Well Pro, Joanne worked as a marketing coordinator for luxury property, where her responsibilities included blog writing, photography, and video creation.