New research into the nation's self-cleaning habits has revealed 56 percent of Brits have swapped bathing for showering, in a bid to help the environment and save money on water bills.
In 19th century Britain, bathing became something people thought distinguished them from the lower classes and taking a bath became more common. Advances in industry, plumbing, architecture and science helped spread the practice of taking a bath, with bathrooms starting to be fitted in houses in the 1930s and 1940s.
Yet the study found, the average Brit currently enjoys up to ten showers a week, spending an average of 12 minutes under the water, with 56 percent having swapped their weekly or daily bath for a shower.
In fact, one in five (17 percent) say they do their best thinking and have made some of their best decisions in the shower. Yet a third (20 percent) claim to miss long, hot wallows in the tub, wishing they could afford to take more of them.
The survey by Radox, found that overall, 53 percent of Brits shower twice a day, with the average times we are most likely to be found standing under the water, emerging as 6.15am and 5.13pm. As many as 87 percent say they couldn't wake up properly without a proper blast in the shower.
In fact, a fifth (17 percent) maintain that a power shower gives them more of a boost than a cup of tea or coffee. Four in ten (45 percent) say they love showers so much that they jump in for other reasons than just to wash – four in ten (37 percent) enjoy the refreshing feel before an evening out, while one in three (33 percent) find it calming when they are stressed.
A further third (29 percent) think there is nothing better than washing away the stress of the day. For a third (28 percent) a shower perks them up when they are feeling low, so much so that 26 percent admit that it can completely turn their frown upside down.
Two-thirds (65 percent) say that a nice-smelling shower gel has a positive impact on their mood (65 percent). Lemon (31 percent) mint (28 percent), lavender (21 percent) and strawberry (20 percent) are the nation's go-to pick-me-up scents.
Scent expert Lizzie Ostrom, founder of Odette Toilette, (writer, consultant, and producer), comments on the power of fragrance:
Scent is intrinsic to our emotional wellbeing. When we smell an aroma that we love, our brain can release tension-relieving endorphins and serotonins, which help us to relax.
Scent expert Lizzie Ostrom, founder of Odette Toilette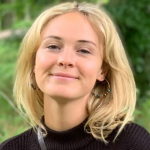 Joanne is the editor for Workplace Wellbeing Professional and has a keen interest in promoting the safety and wellbeing of the global workforce. After earning a bachelor's degree in English literature and media studies, she taught English in China and Vietnam for two years. Before joining Work Well Pro, Joanne worked as a marketing coordinator for luxury property, where her responsibilities included blog writing, photography, and video creation.