The construction industry has the highest Engagement Index Score in comparison to other sectors, according to the latest research from Inpulse, experts in employee engagement.
Over 60,000 construction employees have been surveyed. Their responses revealed that they are more engaged than employees from the retail, transport, education, finance, recruitment, legal, healthcare and technology sectors. Employees in the construction industry have an Engagement Index Score of 77%, in comparison to an average of 71% across the other sectors.
In addition, when asked how positive they felt about their employers, construction workers scored 17% higher than the other industries. In fact, 63% of construction workers feel positive about their workplaces, with the most selected positive emotions being committed, valued and happy. Only 16% feel negatively selecting irritated, frustrated and stressed.
Jodie Harrison, Insights Consultant at Inpulse, said:
Historically, construction has been a very operations-focused industry. However, these scores reflect the sector's devotion towards making a transformational change to improve employee engagement and experience. Looking after people and connecting with teams is now given the same respect and investment as other business-critical topics such as safety. We see buy-in from execs and senior leaders, where focusing on employee engagement generates a higher Return-on-Investment (ROI) than focussing solely on profit.
Jodie Harrison, Insights Consultant at Inpulse
Breaking the numbers down further, 76% of construction workers felt they had an opportunity to share their ideas to improve the business compared to the average of 58% amongst other sectors. Moreover, 75% would recommend their company as a great place to work compared to an average of 66%.
The industry only scored lower when asked about effective collaboration between departments (61% vs an average of 65%) and long-term career opportunities (57% vs an average of 58%).
Harrison explains:
Ensuring people can see a path to continue their career within their organisation is crucial to retaining talent and building a skilled workforce. In this sector, where changing projects or work locations is the norm, sharing the work pipeline and what it means for each individual is critical to avoid anxiety and fears around job security, especially during a cost-of-living crisis. Despite this, construction is an industry where people enjoy their jobs, as opposed to office-type positions where we have seen the rise of quiet quitting, for instance.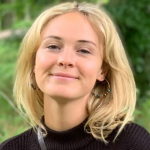 Joanne is the editor for Workplace Wellbeing Professional and has a keen interest in promoting the safety and wellbeing of the global workforce. After earning a bachelor's degree in English literature and media studies, she taught English in China and Vietnam for two years. Before joining Work Well Pro, Joanne worked as a marketing coordinator for luxury property, where her responsibilities included blog writing, photography, and video creation.