Winners of the Disability Smart Awards 2023 were announced last week at an awards ceremony hosted by Business Disability Forum (BDF) and sponsored by Microlink.
Disability Smart Awards recognise the work of teams and individuals who have gone above and beyond to improve the experiences of disabled people.
Ten Disability Smart Awards were presented this year. These were across the areas of workplace and customer experience, learning and development, product design, built environment, technology and leadership. Winners included global brands, a UK charity, a social enterprise, a regional airport, and a local police force.
Disability Smart Awards 2023: Full list of winners and finalists
Disability Smart Accessible Built Environment: Winner -Avon & Somerset Police
For their work to create a unique custodial environment for people with sensory needs.
Finalists: Lloyds Banking Group, Marsham Court Hotel, and GSK (Highly commended)
Disability Smart Diversity and Inclusion Professional: Winner – Sat Jabanda-Wilson, Virgin Media O2
For bringing about systematic change, including the creation of an accessibility framework for product teams.
Finalists: Ruel Ramirez (Shell), Wael S. Alomari (Saudi Aramco) and Lydia Stott (Cooper Parry- Highly commended)
Disability Smart Inclusive Communication: Winner – HSBC
For developing and delivering inclusive communication training to staff and external agencies and introducing an effective inclusive communication benchmark.
Finalists: Unilever, schuh
Disability Smart Inclusive Customer Service: Winner – MAG East Midlands Airport
For looking to meet the needs of disabled passengers at every step of the journey from arrival to final destination.
Finalists: Motability Operations Ltd, Enterprise Rent-a-Car, and Hull Truck Theatre (Highly commended)
Disability Smart Inclusive Product Design Award: Winner – Proctor & Gamble
For washing detergent packaging which is both accessible and environmentally friendly.
Finalists: Microsoft, Designability, and Unhidden (Highly commended)
Disability Smart Inclusive Recruitment Award: Winner – KPMG in the UK
For seeking to improve diversity throughout the organisation from graduate to senior levels.
Finalists: Ford India Private Ltd (Sanand Engine Plant), Leeds City Council, and HSBC UK (Highly commended)
Disability Smart Inclusive Workplace Experience Award – EvenBreak
For creating a personalised recruitment process and an individualised support package of coaching, mental health and well-being support for all employees.
Finalists: BT Group, Charlotte Street Hotel (Firmdale Hotels)
Disability Smart Leader Award: Winner – Claire Cookson, DFN Project SEARCH
For making it her personal mission to enable young adults with a learning disability and autism spectrum conditions to reach their full potential through employment.
Finalists: Neil Milliken (Atos), Julia Dunn (HSBC UK) and Jules Hussey (Brazen Productions – Highly commended)
Disability Smart Learning & Development Award: Winner – HSBC
For developing a professional, thoughtful, and engaging accessibility awareness eLearning course to upskill staff.
Finalists: Google Inc, Lloyds Banking Group and Make Real, and Atos (Highly commended)
Disability Smart Lifetime Achievement Award: Winner – David Oldfield, Group Chief Operating Officer, Lloyds Banking Group
For his ongoing commitment to helping organisations just starting out on their disability inclusion journey and using his own experiences to discuss mental health at a senior level.
Disability Smart Technology Award: Winner – Amazon
For innovation that has benefitted disabled customers globally, including making it easier for customers to find the devices and services that are right for them.
Finalists: Sky, Signapse, and XRAI Glass (Highly commended)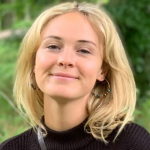 Joanne is the editor for Workplace Wellbeing Professional and Family History Zone. After obtaining a bachelors degree in English literature and media studies, Joanne went on to spend two years of her life writing and teaching English in China and Vietnam. Prior to joining Black and White Trading, Joanne was a marketing coordinator for luxury property in Brighton focusing on blog writing, photography and video creation.