The summer break brings thoughts of outdoor adventures and travel, but it's also an excellent opportunity to create cherished memories with your children through engaging, educational, and mindful activities, all while you manage work from home.
For all the working parents out there, The Knowledge Academy has got you covered with budget-friendly ideas to keep your kids entertained, educated, and stress-free during the summer holidays. Here are three educational and three mindful activities that you can enjoy with your children from the comfort of your home office:
Educational Activities to Ignite Learning:
Business Bonanza
Equipment cost: £1.50 +
Equipment required: Paper, Pen/pencil, Play Money, Treats
Nurture financial literacy in your little ones by transforming a room corner into a vibrant pretend shop. Stock it with their favourite toys and snacks, assigning prices to each item. Provide them with play money and watch as they engage in basic math skills to determine their purchases. A fun way to teach money management and decision-making!
Word Wizardry
Equipment cost: £2.25 +
Equipment required: Paper, Pen/pencil, Colored Pencils
Put a twist on the classic game of 'snap' to boost memory and vocabulary. Create DIY cards with words suitable for your child's age and language level. Lay the cards face down and encourage your children to turn them over, read the word aloud, and search for its match. It's an enjoyable way to expand their vocabulary while having a blast!
Explorer's Quest
Equipment cost: £1.50 +
Equipment required: Paper, Pen/pencil
Foster map-reading and problem-solving skills with an exciting treasure hunt in your home or garden. Craft a treasure map with clues that lead to hidden treasures. This activity promotes communication, teamwork, and creative thinking. Get ready for a sense of accomplishment and lots of fun!
Mindful Moments for Inner Calm:
Nature's Canvas
Equipment cost: £1.85 +
Equipment required: Paper, Glue
Leverage the tranquillity of nature to ease your child's mind. Venture outdoors during your lunch break and collect leaves, rocks, sticks, and other natural materials. Transform these treasures into unique pieces of art or self-portraits. Embrace the beauty of the outdoors while nurturing your child's creativity and curiosity.
Sensory Safari
Equipment cost: £1.50 +
Equipment required: Paper, Pen/pencil
Take a lunchtime stroll with your child and embark on a sensory adventure. Encourage them to observe their surroundings using their five senses—sight, sound, taste, smell, and touch. Record these sensations through drawings or writing, enhancing their awareness of the world around them in an engaging and educational manner.
Sky Stories
Equipment cost: Free
Equipment required: Open Green Space
Unleash imagination as you and your child lie down on a lush patch of green. Gaze up at the sky, spotting hidden cloud formations and discussing the stories they evoke. This simple, cost-free activity fosters creativity and storytelling skills, providing a magical escape right in your own backyard.
Enjoy a productive work-from-home experience while creating cherished memories with your little ones! For more inspiration and resources, visit The Knowledge Academy.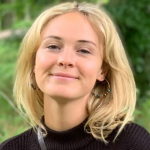 Joanne is the editor for Workplace Wellbeing Professional and has a keen interest in promoting the safety and wellbeing of the global workforce. After earning a bachelor's degree in English literature and media studies, she taught English in China and Vietnam for two years. Before joining Work Well Pro, Joanne worked as a marketing coordinator for luxury property, where her responsibilities included blog writing, photography, and video creation.