New data reveals the surging popularity of shared working spaces in the UK. Since the beginning of the year, January 1st to April 2nd 2023, four of the top five performing flexible office space brands saw an average year-on-year (YoY) increase of almost 60% (57.03%) in online search volumes, bucking the trend for the property sector overall which saw a decrease of 6.48% in the same period.
Leading the way were searches for 'Runway East' (up 188.15%) and 'Workspace' (searches up 27.73%). They were followed by 'Spaces' and 'Work.Life', which also saw increases in search volumes of 8.16% and 4.08%, respectively. Only 'WeWork' saw a decrease in the top five, with searches down 4.79% compared to the same period in 2022.
The data comes from analysis of Google search data by digital marketing specialist MediaVision. Additionally searches for 'office space rental' were up 65.95% YoY, while 'office rental space' increased by 34.5%. Unsurprisingly, 'office space to rent in London' has increased by a huge 166.32%. Meanwhile, searches for 'coworking space' have seen a small increase of 1.78%.
The rise of shared working spaces aligns with changing attitudes towards work, with a growing number of UK workers preferring a hybrid working model that includes both remote and office-based work. A recent survey by IWG found that 74% of UK workers prefer this approach.
The popularity of shared working spaces is also reflected in the Q4 results of major players in the industry. CBRE Workplace Solutions saw a 9.8% positive revenue change and a 12.8% positive net revenue change YoY in its Q4 results.
Similarly, WeWork reported occupancy rebounding to 81% at the end of last year compared with 63% a year prior, indicating a strong recovery in demand.
Louis Venter, CEO at MediaVision, said:
The popularity of shared working spaces continues to surge, driven by the changing needs of workers and the increasing flexibility of modern workplaces. And we've seen the major players in the industry reporting positive results and high occupancy rates.

There's no doubt that the UK's workforce continues to evolve and adapt to new ways of working. It will be interesting to see if more 'traditional' office space opens to co-working and flexible working over the coming months and beyond.
Louis Venter, CEO at MediaVision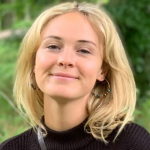 Joanne is the editor for Workplace Wellbeing Professional and Family History Zone. After obtaining a bachelors degree in English literature and media studies, Joanne went on to spend two years of her life writing and teaching English in China and Vietnam. Prior to joining Black and White Trading, Joanne was a marketing coordinator for luxury property in Brighton focusing on blog writing, photography and video creation.