It has been revealed the extent to which employees grapple with job fears that Artificial Intelligence (AI) will take all or part of their job, with younger workers particularly worried.
The UK survey, conducted by Corndel , found 61% believe that this new technology will take at least 25% of their role by 2023, with 38% of the 18-34 year olds fearing that AI will take at least 50% of their job in the next ten years.
39% of the UK employees believe that it will impact them in the same way, yet 82% of employees have had no AI training. This number rises to 96% of those over 55-years-old, reflecting a neglect of data skills in the UK that are highlighted in a new report.
Research by McKinsey Global Institute found that data-driven businesses are 20-plus times more likely to acquire new customers and six times more likely to retain them, highlighting the significant impact of data-driven leadership on an organisation's success in the UK market, yet many organisations are struggling to make headway.
The new research published in the Better Decisions, Realised Report reveals more than nine out of ten (92%) of employees who work with data tasks believe there is a data skills gap in their organisation, with almost one-third (32%) of data professionals reporting a large data skills gap in their organisation.
For its report, Corndel surveyed 300 senior data leaders and 1,500 employees who work with data tasks, with over a third (35%) of data professionals believing that the biggest impact of the data skills gap in their organisation is reduced efficiency and productivity. Almost half of senior decision-makers in data roles believe that a lack of data skills is holding back their organisation's business transformation, with 37% identifying data literacy as a significant barrier to economic success.
Professionals who work with data also pinpointed an increased risk of errors and misinterpretation at work (32%), higher levels of stress among employees (29%), missed growth opportunities for their organisation (29%) and limited problem-solving capabilities (28%) as other key risks and threats to their organisation as a result of the data skills gap.
Corndel's Better Decisions, Realised Report uncovers how four in ten employees  (44%) believe lack of time allocated for learning and skills development is a major challenge in keeping up with evolving data skills and knowledge in their organisation. This figure rises to 55% of employees in larger organisations with 1,000+ employees. A wide range of other issues are also identified as challenges to maintaining up-to-date data skills and knowledge in their organisation, including insufficient support or budget from the organisation (33%), limited access to relevant and up-to-date training resources (32%), and difficulty in identifying the most relevant skills to focus on (30%).
The report highlights the key role workplace training and development has to play in ensuring the data skills gap is closed and organisations can make data-driven decisions to drive growth and competitiveness.
The research found that over half of those working in data roles (53%) believe 'on the job' workplace training and experience is the best solution to eliminating the data skills gap, while four in ten said access to online training (43%) and more access to data analysis tools and software (39%) would best solve the issue.
James Kelly, CEO and co-founder of Corndel, said: 
Only by implementing continuous skills development programmes to support lifetime learning among employees, as well as investing in technology and data infrastructure, can organisations empower their employees to leverage tech and data knowledgeably, confidently and effectively, to fuel transformative change and drive successful performance.
James Kelly, CEO and co-founder of Corndel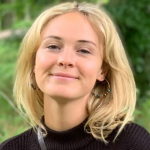 Joanne is the editor for Workplace Wellbeing Professional and has a keen interest in promoting the safety and wellbeing of the global workforce. After earning a bachelor's degree in English literature and media studies, she taught English in China and Vietnam for two years. Before joining Work Well Pro, Joanne worked as a marketing coordinator for luxury property, where her responsibilities included blog writing, photography, and video creation.