Gender-specific workplace support is set to be a major area for growth in 2023 and employers need to be prepared, according to digital health app, Peppy.
While inclusion and equality remain a key focus, employers need to better understand that simply offering generic health information or support isn't enough to make a meaningful improvement to the health and wellbeing of their staff or a significant difference to business outcomes.
Peppy highlights that while there are very real business benefits when employers take a gender-specific approach to employee benefits, there are some damaging ramifications that may be felt in 2023 if they do not. For example, recruiting and retaining a specific demographic may be harder if gender-specific support is not in place, and absence rates and resignations may also increase if employees cannot resolve their health matters.
Women's health matters
Menopause support is a great example of gender-specific workplace support, and employers who offer this type of support should be commended. However, employers should also be aware that menopause is just one of many health issues that concern women in employment and – to appeal to all female staff and those who were assigned female at birth – a broader women's health strategy is needed that encompasses other concerns such as female-biased cancers, gynaecological and reproductive health.
Kathy Abernethy, director of menopause at Peppy said:
Menopause support is a great place to start for employers who do not currently have any gender-specific support in place, as the symptoms of menopause could affect as much as half of the employed population at some point during their career. Employers should also try to think more broadly and ensure they have support in place that meets the health needs of women of all ages – whether they are struggling with an acute illness or a nagging chronic condition.
Kathy Abernethy, director of menopause at Peppy
Men's health matters too
Men are routinely under-served by the health service: in general they have fewer touchpoints with health providers and are much less inclined to seek support for health matters. This represents a good opportunity for employers to step in and provide the necessary support. However, in order for workplace health support to appeal to men, it needs to be focused on male-specific conditions such as prostate issues, testicular cancer, heart conditions, mental health, and men's fitness, but also reinforce messages about confidentiality and accessibility.
Helen Lake, Director of Men's Health, at Peppy said:
We know that while the saying 'a problem shared is a problem halved' may appeal to women, many men find opening up and discussing their health matters a huge hurdle. Therefore, for men in particular, communicating gender-specific health support in the workplace is as much about specific conditions as it is about emphasising discretion, privacy and convenience.
Helen Lake, Director of Men's Health at Peppy
Many early adopters that offer gender-specific support (such as for menopause), have recognised the importance of doing so and Peppy believes this trend will continue during 2023 as gender-specific support grows in both importance and uptake. Those who do not follow suit will likely find themselves an outlier in their industry and may need to rethink the way they deliver health and wellbeing support in the workplace.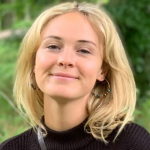 Joanne is the editor for Workplace Wellbeing Professional and has a keen interest in promoting the safety and wellbeing of the global workforce. After earning a bachelor's degree in English literature and media studies, she taught English in China and Vietnam for two years. Before joining Work Well Pro, Joanne worked as a marketing coordinator for luxury property, where her responsibilities included blog writing, photography, and video creation.