While getting into the spooky season spirit can be great fun, dressing up for Halloween can cause all kinds of problems in the workplace, if certain measures and rules aren't put in place to ensure employee safety.
Before you leave the house this morning, take a look at these top tips from John Johnston, Head of E-Commerce at the UK's leading workwear provider Workwear Express, to ensure that your Halloween costume is not only appropriate for work, but doesn't put anyone in danger!
Ensure your costume uses flame resistant materials
It's important to consider what material your costume is made from – check if it's flame-resistant and is made mostly of the same type of material. While your risk of being around an open flame will depend on the type of work you do, having a costume that is made of one material or is fire-resistant, means that if the worst happens, it is less likely that you will come to any harm. Thin and flimsy costumes or ones made of lots of different fabrics may fuel fire or burn faster.
Ditch Capes or Loose-Fitting Items
If you are wearing a costume that involves a cape, it might be best to ditch this part altogether and head home to change!
Capes can be a tripping hazard in the workplace, especially if your job involves being on your feet or climbing up ladders regularly. The same goes for any costumes that contain loose-fitting items or those tied around the neck, as they can present a number of health and safety risks.
Consider Comfort 
There's nothing worse than being in a costume all day that feels uncomfortable or doesn't fit you correctly. Not only that, but wearing a costume or clothes that are uncomfortable can actually hinder your performance at work or stop you from being able to do your job correctly. So, make sure you try it on before you leave the house this morning.
Wear Clothes Under Your Costume
While not everyone will choose to dress up for Halloween, if you do want to join in on the spooky fun at work, it is important that you wear appropriate professional work attire under your costume. This way if you are called to an emergency meeting, or somewhere where you are required to act professionally, you are still dressed appropriately.
Be Sure That You Can Still Do Your Job 
Most importantly, consider whether you will still be able to carry out your normal duties, or whether what you're wearing will be restrictive.Sure, it's great to be inventive, but if your costume stops you from using your hands for example, are you really going to be able to do your normal job?
Consider the Message You Are Conveying 
Could your costume be offensive to other co-workers?
While it's good to be creative, it might be more sensible to stick to a Halloween costume that is unlikely to cause any upset to others – like opting for something more classic like a witch, vampire, or cat. If you have any doubts about this, it's likely best you head back upstairs to change!
Remember to stay visible
If your job requires you to work in conditions that are either dark or poorly lit, you might want to consider whether wearing a Halloween costume is going to make you visible to others around you.
If the answer is no, then you might want to opt out of wearing a costume while on the job and save it for your spare time this spooky season, or think about how you can make yourself visible while wearing a costume, such as opting for reflective materials.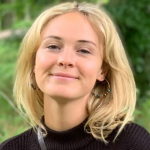 Joanne is the editor for Workplace Wellbeing Professional and has a keen interest in promoting the safety and wellbeing of the global workforce. After earning a bachelor's degree in English literature and media studies, she taught English in China and Vietnam for two years. Before joining Work Well Pro, Joanne worked as a marketing coordinator for luxury property, where her responsibilities included blog writing, photography, and video creation.