Recent figures show around 40,000 people in the construction industry suffer from musculoskeletal disorders (MSDs) each year, which can lead to years of discomfort and in some cases, agonising aches and pains.
With this in mind, the Health and Safety Executive's (HSE) announcement for their latest conference could not come at a more suitable time. The conference is a free and interactive event taking place on the 15th November 2022 where registrations for the virtual all-day event are now open. The aim is to inspire and promote better prevention, management and control of the common risks and causes of work-related ill-health across Great Britain.
At the conference, HSE will unveil how it is supporting the government's response to the Health is Everyone's Business (HiEB) consultation, as well as discussing topics including musculoskeletal disorders, work related stress and mental health, occupational health, and occupational lung disease.
The event will carefully consider how health and work is evolving in response to the pandemic, as well as the actions we need to all take collectively as employers, employees, regulators, to prevent harm caused by work-related ill-health.
"Health in the workplace needs to be a priority for everyone. This conference is a unique opportunity to engage with HSE's regulatory inspectors, scientists and health topic specialists. The day will include discussions around work related stress and mental health, occupational health, musculoskeletal disorders, occupational lung disease and COSHH and much more."
Ali Wellens, HSE's head of health and work branch
In response to statistics emerging from the construction industry, the HSE have additionally launched a campaign to highlight problematic health issues such as aches, pains and strains and in some cases more serious issues with standing, walking and sitting.
The law requires employers to prevent ill health of their workers, which includes injuries to muscles, bones, joints and nerves that can develop over time (musculoskeletal disorders). As a result, HSE inspectors will be carrying out 1,000 inspections in October and November checking how workers are moving heavy or bulky materials.
"Inspectors are visiting a range of construction sites to check the action businesses are taking to ensure their workers are being protected. Everyone involved in construction has a role to play in keeping people safe. Risks must be managed where they can't be prevented, and risk management arrangements must be reviewed frequently to ensure they are effective.

This is a significant health issue for tens of thousands of construction workers and can lead to a lifetime of terrible aches and pains. The health of workers must be considered when planning construction work so that they can carry out their jobs without fear of injuring themselves, including being provided with the correct equipment to lift safely.

Thankfully there are measures that can be taken to prevent injuries to muscles, bones, joints and nerves. Doing so is good for workers and good for the construction industry. It's good for business."
HSE's head of construction, Sarah Jardine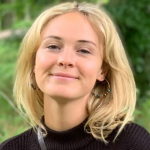 Joanne is the editor for Workplace Wellbeing Professional and has a keen interest in promoting the safety and wellbeing of the global workforce. After earning a bachelor's degree in English literature and media studies, she taught English in China and Vietnam for two years. Before joining Work Well Pro, Joanne worked as a marketing coordinator for luxury property, where her responsibilities included blog writing, photography, and video creation.