To celebrate Christmas, Intravelr, a company that specialises in providing unforgettable experiences to the young generation, is launching its in-house Happiness Committee.
Formed by employees from different parts of the company, the Committee is responsible to create initiatives and organise events that help employees to be more motivated and more productive, creating a fun and inspiring environment whilst supporting their mental health and wellbeing across 2023.
The company calendar will be filled not only with social and fun events but also with educational talks and fitness activities. December will see lots of Christmas Shenanigans in the office including Christmas decorations, Secret Santa and some team walks, to wrap up a challenging yet very successful year.
In January, the Committee will welcome back their staff from Christmas with a Smoothie Thursday (5th January), where they will be serving Juices and Smoothies in the office after the holiday indulgence, alongside some educational evenings across the month, where employees can learn more about Lunar New Year celebrations (22nd January) and Burns Nights (25th January).
The committee will also be sending out internal weekly surveys, checking in on how every single employee is doing and making sure they're happy – with the collective mindset that a happy employee, is a creative and productive employee.
Company culture has always been at Intravelr's core, starting from its working environment. The office is located in a jungle-themed converted warehouse, where a six-metre palm tree meets with nightlife decor and disco balls, giving its employees a never-ending holiday feeling, boosting their creativity and constantly inspiring them.
Nick Steiert, Intravelr's Co-Founder, says:
Empowered employees are at the core of every successful business: this is why we've decided to launch our in-house 'Happiness Committee' this Christmas, which will be in charge of supporting employees' mental health and wellbeing across 2023.
Nick Steiert, Intravelr's Co-Founder
In recent years, employee wellbeing has become a large focal point for many organisations. In light of the current economic situation and the lead-up to Christmas, mental health is far more likely to decline. Therefore, leaders need to check in with staff and offer support where they can.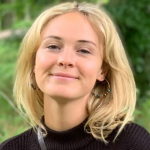 Joanne is the editor for Workplace Wellbeing Professional and has a keen interest in promoting the safety and wellbeing of the global workforce. After earning a bachelor's degree in English literature and media studies, she taught English in China and Vietnam for two years. Before joining Work Well Pro, Joanne worked as a marketing coordinator for luxury property, where her responsibilities included blog writing, photography, and video creation.