The Open University has released a new report in partnership with TrainingZone which explores how learning and development impact employees' wellbeing following the rising concerns of an over-extended workforce[1] and the cost-of-living crisis.
The report, 'L&D's role in employee wellbeing', revealed that 1 in 4 (28%) see an immediate improvement in overall wellbeing as a benefit of longer learning and development programmes, such as apprenticeships, while 1 in 3 (36%) see better stress and mental health management too.
Interestingly, the survey of 564 organisations highlights that while wellbeing training is traditionally used as an intervention for employees' wellbeing, short-term and long-term skills-based training can provide a similar impact. The right training can help plug the existing skills gap and in turn, alleviate workplace pressure that employees might be facing.
Written by leadership expert, Blaire Palmer, the report stresses the importance of investing in staff development and its role in employee engagement and providing staff with a career path for the future.
Comparing organisations who have demonstrated a commitment to long-term L&D programmes (members of The 5% Club) against organisations without the same commitment, the report highlights a stark difference in employee impact. The findings are striking, as almost twice as many members of The 5% Club report a positive impact of training and upskilling on employee wellbeing, engagement and retention in comparison to typical organisations.
42% of typical organisations said they saw greater employee engagement as a result of running long-term skills development programmes, while 94% of The 5% Club said they saw this benefit
38% of typical organisations said confidence improved as a result of their investment in these programmes compared to 71% of The 5% Club respondents.
Mark Cameron, CEO of The 5% Club commented:
We see our members as best in class, a discerning group that overachieves, and over-delivers because they want to see a benefit to themselves and to the nation. They understand the need to skill their workforce. They believe in giving the UK the edge by investing in hard-to-reach talent pools in the post-Brexit, post-pandemic era.
Mark Cameron, CEO of The 5% Club
But while almost all respondents (96%) saw a link between L&D activity and wellbeing, the survey shows many organisations cutting their investment in L&D over the next 12 months. Phil Kenmore, Director, Corporate Development and Partnerships at The Open University added:
Employers know that wellbeing needs to be addressed. That could be from how they help staff cope with cost-of-living crisis or personal challenges. Programmes need to be put into place to respond to a crisis, or a difficult time.

However, wellbeing also needs to be addressed at a cultural level within the organisation. Positive mental health goes hand in hand with an engaged and loyal workforce. Our new report shows exactly how training and career development can have a proactive impact on wellbeing in the workplace.
Phil Kenmore, Director, Corporate Development and Partnerships at The Open University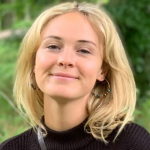 Joanne is the editor for Workplace Wellbeing Professional and has a keen interest in promoting the safety and wellbeing of the global workforce. After earning a bachelor's degree in English literature and media studies, she taught English in China and Vietnam for two years. Before joining Work Well Pro, Joanne worked as a marketing coordinator for luxury property, where her responsibilities included blog writing, photography, and video creation.