Two thirds of professionals under the age of 24 claim to have a 'side hustle' – with 74% stating it is 'too risky' to focus on just having one job as they may have done pre-pandemic.
Results from consultancy Robert Walters found that 53% of young workers have stated flexible hours and a hybrid working environment is a must when looking for a job – otherwise it will impact their side hustle.
Toby Fowlston, CEO of Robert Walters, argues employers should support young professionals:
Our survey has found that side-hustles are a priority for young professionals but for too long side-jobs have been considered a 'dirty secret' by employers.

For those concerned about employees being distracted it's worth noting that 70% of Gen Z professionals state that their employer does meet their career expectations, the highest out of any other age cohort. A side hustle does not necessarily mean that an employee is not interested in progressing within their primary job.
Toby Fowlston, CEO of Robert Walters
Anxiety rife for young workers
According to the Robert Walters survey of 6,000 professionals, it is 18–24-year-olds (Gen Z) who reported feeling twice as anxious as their more experienced colleagues in the past 18 months around job security, pay, relationships at work, and their mental well-being.
Young professionals living pay cheque to pay cheque
When looking into the pay of young professionals, we can see that almost a third of 18–24-year-olds are on a salary band of £16 – £21k. With the largest proportion (25%) being on salaries of £21 – £28K.
For those young professionals that are earning around £28,000 – after tax, national insurance, and student loan repayments – take home can be in the region of £1,800 per month.
When we consider the current cost of living, figures show that this cohort of young workers are unable to financially live by themselves – whilst also saving money for the future and investing in a pension for their retirement.
The inability for employers to keep increasing salaries in-line with inflation or cost of living means that the young professionals situation is only worsening, leading them to looking for additional sources of income.
Toby Fowlston adds:
The traditional values of employees holding one job and being bound by moonlighting clauses in their employment contracts needs to be addressed. Employers need to be flexible, and leaders must be empathetic that – for some – a side hustle is not just a passion-project but a necessity.

"I would encourage businesses to have an open mind about their employees' extra-curricular activities – encouraging them to bring that level of initiative and entrepreneurialism to the workplace.
Beth Harries, Team Support at Robert Walters, started her online shop with her friend in lockdown as a fashion passion project and since then earns up to £3k per month – in addition to her full time salary. While her side hustle began out of her love of fashion and an opportunity to enhance her skillset, Beth explains it has supported her significantly from a financial point of view:
– my side-hustle has proven to be a great way to earn an additional income alongside my full-time salary. In the past, this additional income has given me the freedom to be able to save and spend money that I wouldn't ordinarily have, whilst now the income is helping to diminish any financial pressures that I anticipate may be coming my way.
Beth Harries, Team Support at Robert Walters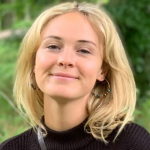 Joanne is the editor for Workplace Wellbeing Professional and has a keen interest in promoting the safety and wellbeing of the global workforce. After earning a bachelor's degree in English literature and media studies, she taught English in China and Vietnam for two years. Before joining Work Well Pro, Joanne worked as a marketing coordinator for luxury property, where her responsibilities included blog writing, photography, and video creation.