A recent survey found that 47% of UK employees have observed bullying or harassment in their workplace, with 1 in 10 experiencing it themselves. This demonstrates the severity of the issue, and the negative impact bullying, harassment and consequent feelings of imposter syndrome can have on people's careers and wellbeing.
Bertrand Stern-Gillet, CEO at Health Assured, looks at the link between bullying, harassment and imposter syndrome and shares his top tips to help overcome it.
How is bullying and harassment in the workplace linked to imposter syndrome?
Continuously feeling belittled, humiliated, or excluded for no apparent reason can have a negative impact on a person's ability to do their job. When your mental health or self-esteem takes a knock, it can lead to feelings of doubt about your ability to do your job or and trouble seeing how you fit within an organisation. This impacts on a person's productivity, decision making and concentration, in turn fuelling the imposter syndrome. It's a vicious and destructive cycle which can have severe consequences on a person, leaving them feeling powerless, confused, and helpless.
How to cope with bullying and harassment in the workplace
The first step should always be to report incidents of bullying or harassment to management and HR so they can start a formal investigation. But there are other alternative strategies which can help as a coping mechanism in the meantime.
Set boundaries– If someone is acting in a bullying manner, let them know that their behaviour is unacceptable. It may be that the person hasn't realised the impact of their actions and isn't deliberately setting out to bully or harass you. Speaking up and letting them know how they are making you feel could make all the difference.
Confront the individual– If, once you've set boundaries with a colleague, the bullying behaviour continues then it's important to follow up. Let them know that this is not acceptable behaviour and report it to a manager or HR. Always remain professional throughout the investigative process.
Keep track of the abuse– It's a good idea to document any incidents of bullying or harassment in the workplace. Note when and where it occurs, as well as any witnesses to the behaviour. That way it won't simply be your word against theirs, and you can corroborate your case if/when you decide to report it.
Practice self-care– This can be a distressing time, so it's vital that you look after yourself and find a way to relax both body and mind. Try to find something that works for you, whether that's exercise, meditation, seeking support from friends or talking to a mental health professional.
How to overcome imposter syndrome in the workplace:
The impact of imposter syndrome can linger, causing persistently low self-esteem. While there is no direct cure there are a few ways to help overcome it.
Focus on the facts– You can't prevent your brain from having intrusive thoughts, but you can make a conscious effort to focus on facts rather than allowing yourself to become overwhelmed by anxiety or intrusive thoughts.
Share your feelings– It may sound cliché, but a problem shared is a problem halved. Imposter syndrome can be very isolating, but by speaking to colleagues, friends, or family you may find out you're not alone. Nearly two-thirds of workers have experienced imposter syndrome.
Be kind to yourself– Self-affirmation is known to be an effective technique to alleviate feelings of imposter syndrome. Essentially giving yourself verbal reminders or engaging in positive acts can help to challenge negative feelings. Positive affirmations can restore self-confidence and ensure that a positive mindset prevails during periods of self-doubt.
Stop comparing yourself to others– Comparison is the thief of joy. It's easy to compare ourselves to others, whether that be looks, personality, career, or finances, and can lead to negative emotions and feelings of inferiority. In a curated, digital age, it's important to take a step back and celebrate your own successes – whatever they may look like.
Seek support– Trying to deal with imposter syndrome can feel overwhelming. If you feel like existing methods aren't working, then perhaps considering speaking to a mental health professional is a good idea. Professionals can help you process your thoughts and feelings, identifying where they may have come from and coping strategies to move past them.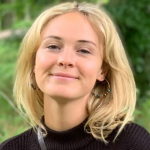 Joanne is the editor for Workplace Wellbeing Professional and has a keen interest in promoting the safety and wellbeing of the global workforce. After earning a bachelor's degree in English literature and media studies, she taught English in China and Vietnam for two years. Before joining Work Well Pro, Joanne worked as a marketing coordinator for luxury property, where her responsibilities included blog writing, photography, and video creation.