FYLD, the AI-powered digital platform that enhances the safety and productivity of fieldworkers, has appointed Joshua Wood as Director – Water Sector – a newly created role designed to further strengthen the company's expertise within the water and wastewater industry.
Joshua will be responsible for enhancing the value that customers derive from the platform, while also accelerating FYLD's global growth plans in the sector.
Joshua brings nearly a decade of operations management experience to this role, having held various roles within FYLD and Thames Water – the UK's largest water and wastewater services company. As part of the leadership team, Joshua will work closely with the product development, business development and client delivery teams, to progress and communicate the platform's continued innovations to FYLD's customers.
His appointment comes as the global water sector battles major challenges surrounding water resources and environmental protection, with FYLD implementing solutions across the sector with positive and measurable impacts on pollution and leakage. These are issues that affect regions in which FYLD has a strong presence, including the UK, North and South America, as well as targeted areas for expansion such as Australia and the Middle East.
FYLD has established itself as a critical tool for fieldworkers in challenging environments across large geographical areas. With climate change and changeable weather patterns increasing, FYLD is supporting regions with significant drought and water resource challenges by delivering efficient field teams. By enabling more productive field force teams, FYLD's platform can reduce the time spent completing jobs which leads to substantial water-saving efficiencies, as well as productivity, cost and environmental benefits.
Utilities and contractors use the platform to leverage real-time, AI-powered site visibility to improve decision-making, remote collaboration and operating performance. Accelerated innovation aimed at delivering better business and sustainability outcomes has enabled FYLD customers to unlock safer, greener and more efficient operations not only in the water sector but other hazardous industries such gas, electricity, highways and construction.
Joshua said:
FYLD is committed to tackling the pain points the water sector faces through the deployment of sustainable solutions that promote efficiency and increase productivity. Our game-changing technology continues to streamline and optimise field force management to address the industry's biggest challenges.

Ultimately, FYLD helps fieldworkers in safety-critical sectors stay out of harm's way while boosting productivity. I look forward to continuing to offer my industry expertise to embed our award-winning technology in contractor and water utility companies around the world, to make sure everyone gets home safe at the end of each working day.
Joshua Wood, Director
FYLD was launched in 2019 and started trading in 2021. It reached the milestone of onboarding 100 global companies to the platform after one year of commercial operations.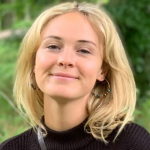 Joanne is the editor for Workplace Wellbeing Professional and has a keen interest in promoting the safety and wellbeing of the global workforce. After earning a bachelor's degree in English literature and media studies, she taught English in China and Vietnam for two years. Before joining Work Well Pro, Joanne worked as a marketing coordinator for luxury property, where her responsibilities included blog writing, photography, and video creation.