Supporting workforce wellbeing is a challenge for businesses at the best of times, let alone when wider economic and social issues are putting increased pressure on everyone. In fact, recent research which looked into global trends on how and where people work, revealed that 59% of professionals have experienced burnout at some point. But what can employers and HR teams do to really help their employees and prevent burnout amongst their staff?
The subject of mental health is, of course, not just related to the world of work. It is hardly surprising that many people are struggling with a variety of factors, from increased pressures in their personal lives, to well-publicised inflationary and macroeconomic trends. However, the working environment can play a major role in potentially exacerbating, or helping to manage, these problems.
As you will have noted, we are operating in a market that has been significantly impacted by skills shortages. Firms don't have the availability of talent that they once did and can't afford to lose staff as it's so challenging, not to mention, costly, to replace them. This means retaining, developing, and looking after employees has never been more important. Companies need to think about a broad range of factors when supporting their people, and one of the most often overlooked, but potentially key, issues is workplace design.
Burnout and mental health are obviously complex issues that require individualised approaches, however, there are some key trends that are linked directly to the office environment. Data from the Returning for Good study, for example, revealed that 59% of professionals don't feel that they can deliver the core elements of their job when in the office due to distractions. Given that many already feel they are facing a significant workload, coming into the office only to feel less productive, will likely exacerbate these feelings. This is why office design plays such a key role.
Looking at the data in more detail, 30% of employees also revealed that they feel that the amount of time they spend in the office is playing a key part in the levels of burnout being experienced.  Clearly, this suggests that firms need to think about the types of spaces they are providing for their staff and the ways that they are used.  This data is particularly worrying for businesses when we factor in that 87% of employers believe people will return to the office at least four days a week in the next two years, meaning that the already high levels of burnout could become even more extreme unless workplaces are more aligned with the needs of the modern-day workforce.
The study also revealed a concerning trend in the younger generations struggling with burnout more than their senior counterparts. Almost two-thirds (65%) of 18–35-year-olds, compared to 45% of those over 45, flagged that they had experienced this issue at some point. This suggests that those who have spent more of their career working from home than in the office are struggling to adapt to workplace returns. But what can employers do?
Many business leaders and HR teams may not yet have considered the role that design can play in boosting mental wellbeing. Self-reflecting on whether the type and use of the available workspace is serving the needs of today's workforce should be a starting point for change. A balance needs to be struck that supports multiple working styles. The data clearly indicates that staff want a combination of spaces for both collective work and socialisation (35% suggested this was the main motivating factor for them returning to the office), as well as quieter spaces to enable them to work in private.  Other design considerations should include the incorporation of plants and other biophilic elements into the space, creating a calming effect and, in turn, naturally helping people who may be struggling with a range of pressures. Businesses should also look at how colour schemes support employees' ability to work effectively and productively. The use of yellows, for example, can promote creativity, while blues have been shown to improve wellbeing and focus.
Ultimately, businesses, particularly those who are encouraging or mandating their staff back to the office, should look to focus on providing workspaces where their employees can work effectively and feel happy. It is clear that many individuals do not want to work from their offices in their current form, suggesting that change is needed, and engaging with staff to create the spaces they want will help to reduce the levels of poor mental health that have been noted. As an example, only 47% of firms currently provide their staff with dedicated wellbeing-focused and 'digital-free' spaces, so there is potential for more businesses to look to invest in this type of space if their employees are facing the prospect of burnout.  The consequences of not doing so will only lead to rising attrition levels and a wider workforce suffering from issues such as burnout.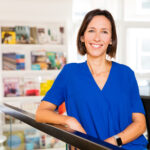 Amy Bailey is Head of Culture and People at Unispace, the global workplace design experts. Amy is responsible for all aspects of People & Culture across EMEA. She brings demonstrated experience of working in private and commercial sectors and has significant experience in Coaching, Employee Engagement, Organisational Development, Culture Change, and Stakeholder Management.