In the United Kingdom, every six minutes, someone receives the devastating news that they are experiencing sight loss.
With a staggering two million people currently living with sight loss and one in five individuals experiencing significant sight loss during their lifetime, it becomes evident that vision impairment is an urgent issue that demands our attention.
Moreover, the statistics are sobering, with one million people in the UK facing avoidable sight loss, imposing a considerable burden on individuals and the economy alike.
According to estimates from 2019, the annual cost of sight loss and blindness in the UK reached a staggering £36 billion. This figure is expected to rise by an additional £2.5 billion in the run up to 2024*. For some, sight loss is a sudden and life-altering event, while for others, it is part of a long-term health condition.
Regardless of the circumstances, sight loss can profoundly impact daily life. It is associated with an increased risk of loneliness, isolation, and various other health conditions, including clinical depression, diabetes, dementia, and stroke.
Expert clinicians across the country express their growing concerns about the alarming number of avoidable cases of blindness. It is estimated that 50% of all sight loss can be prevented with effective treatments that are currently available. No one should have to endure vision loss that could have been avoided. For those for whom sight loss is inevitable, efforts must be made to ensure that it does not lead to catastrophic consequences for their lives.
World Sight Day, a global event observed on October 12th, annually serves as a poignant reminder of the daily challenges faced by individuals living with vision impairments. It is also a rallying cry for individuals, businesses, and organisations to support charitable initiatives like the Royal Society for Blind Children, which are dedicated to making a meaningful difference in the lives of visually impaired people.
Influential personalities, including Dame Judi Dench, blind TV presenter Chris McCausland and renowned author Chris Brookmyre are supporting the Royal Society for Blind Children's mission to raise £100,000.
This initiative seeks to empower visually impaired children and young people and underscore the importance of eye health for people of all ages. As the world prepares to observe World Sight Day on Thursday, October 12th, RSBC urges everyone to recognise the significance of prioritising eye health, especially in the workplace.
Shalni Sood, Director of Philanthropy at the Royal Society for Blind Children said:
As we navigate our daily routines, we often take our vision for granted until it is affected. It is a stark reality that millions of people neglect regular eye tests. We must collectively raise awareness about the critical importance of regular eye check-ups and maintaining eye health. By doing so, we can prevent avoidable sight loss and improve the quality of life for countless individuals.
Shalni Sood, Director of Philanthropy at the RSBC
Other organisations engaging their employees include Scope Health and Eyecare, Zen Internet, Triodos Bank and MacPhies. They are participating in the charity's initiative which involves creating a bespoke piece of mosaic art made up of thousands of eyes including celebrity supporters, individuals, and people from across the UK.
For further information, donations, or to get involved, please visit https://www.rsbc.org.uk/rsbc-and-world-sight-day-what-it-is-and-why-it-matters/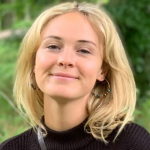 Joanne is the editor for Workplace Wellbeing Professional and has a keen interest in promoting the safety and wellbeing of the global workforce. After earning a bachelor's degree in English literature and media studies, she taught English in China and Vietnam for two years. Before joining Work Well Pro, Joanne worked as a marketing coordinator for luxury property, where her responsibilities included blog writing, photography, and video creation.