We recently passed the anniversary of the lifting of all legal Covid restrictions in England. Similar milestones were reached around the world in February-March 2022 as collectively we emerged from a difficult, often traumatic period in our lives in which factors such as hybrid working became our normality.
And, one year on, it is very clear that the pandemic has changed the way we work, permanently. Well, it has, at least, for those laptop warriors among us who can continue to do a job remotely.
Remote and hybrid working was nothing new in 2020, but with the help of technology and organisational agility, many more organisations discovered that they could continue to operate effectively under lockdown. Indeed, some even thrived with a pivot online. Workers, too, realised what could be achieved without the commute and distractions of the office.
The pandemic accelerated the adoption of hybrid working and today, in 2023, more of us work from home or split our time between the kitchen table, coffee shop and office. It is a flexible way of working that is very much here to stay. It is for some of us, at least.
Health warning
This revolution, however, comes with a health warning. Work culture, employee engagement and mental health and wellbeing are inextricably linked, so it was no surprise to discover issues with worker wellbeing during the enforced remote working arrangements of lockdown.
Maintaining a strong company culture with a disparate workforce was a whole new ball game and leadership teams struggled. The pandemic's impact on employee engagement was matched by its effects on mental health and wellbeing, our own survey found. Fast forward to today and many organisations continue to face wellbeing issues with a hybrid workforce.
In the years pre-pandemic, those with workplace safety, health and wellbeing responsibilities and HR leads had long been working together to develop cultures in which co-workers, at every level of the organisation, looked after each other.
Driven by the moral imperative as much as the commercial need, senior leadership teams were investing in strategies for physical and mental wellbeing, and measuring performance on the delivery of them. Now, three years on from the coronavirus outbreak, that focus on wellbeing as central to business sustainability has never looked more critical.
Managing wellbeing
Wellbeing issues in a hybrid working world include loneliness, stress from juggling home life and work, and burn-out. All of the data from the last two-and-a-half years has indicated that people have actually worked longer and harder than ever before. 'Burn-out' is a buzzword in news items and articles at the moment, and we know from our experience and research with Tuddl that people struggle to put wellbeing at the forefront of their day when working in a hybrid way.
Hybrid working has many benefits, but it brings risks that most certainly need managing. Mental health and wellbeing must be central to business priorities for those organisations that have embraced the new ways of working.
There is no one silver bullet to solve this issue, but the organisation that prioritises work culture and employee engagement will reap the rewards with worker wellbeing.
Our advice to you if you're a manager is to harness the power of your team. Utilising the crowd to stay well is a fundamental part of workplace engagement that everyone can jump on board with. Here are fours steps you could take:
Encourage the team to share what they are trying to do with each other, getting each other's ideas and input. Fundamentally, ask for help when you need it. You will be pleasantly surprised by how many offers come in – we are a species that likes to help each other, so use that capacity to hit your goals
Buddy up and double your chances of success – research shows that we are twice as likely to achieve something if we do it with someone else. So, if it's healthy snacks, get someone else to create a 'menu' with you, and both use it, or if it's a regular break, diarise it together and call or message in when it starts
Make time to talk about wellbeing achievements/struggles – make space on your team agenda to ask a simple question – 'How well are we?' – don't leave it until someone is failing to ask the question. Making it a regular conversation ensures it's an area of sharing rather than shame, and, if done properly, people will get lots of new things to try, and support in doing them
Build wellbeing into any physical team meetings or events – use the time together to invest in some healthy snack eating (they are not as bad as we all think), do the meeting as a walk and talk, put huge jugs of water on the tables, ask people what time and length of meeting fits them best. Be intentional about wellbeing,
We know that wellbeing needs more than these four things – self discipline, personal planning and focus on own wellbeing are all critical. But, with hybrid working comes the risk of isolation, so all of these well-intentioned actions will suffer if you are feeling lonely and unsupported. Connect the team through wellbeing.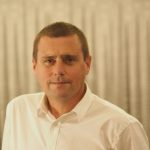 Chris Preston is the Director of business management consultancy The Culture Builders and CXO of Tuddl, a system that focuses on key metrics that, collectively, cover the major factors that impact individual and team well-being and performance.