The wellbeing of employees is influenced by various factors such as their relationships with co-workers, their decisions, job role and the tools and resources they have access to. An effective method that helps employees take control, increase self-awareness, boost confidence, and help reduce workplace stress is reflection.
What are the benefits of practising reflection?
There are many benefits of reflective practice in the workplace. From helping to manage work stress and building emotional intelligence to enabling the development of critical thinking skills, reflective practice is important in maximising our career development.
Here are some of the benefits of reflective practice:
• Building self-awareness
• Creating willingness to experiment and learn from mistakes
• Encourages flexibility and creativity
• Develops interest in learning and development
• Building connections
Like any other aspect of learning and development, reflective learning is very personal. Developing your individual approach and learning from it is the best way to maximise your progression.
Want to try reflective practice? Here are some great reflective practice techniques you can try. See which ones work best for you:
– Revisiting past events, learning to identify patterns and changing perspectives
– Capturing your thoughts on a notebook, audio, electronic and shared devices
– Following learning cycles e.g. Gibbs model of reflection
– Asking yourself questions e.g. What? So What? What next?
– Recognising emotional triggers
Reflecting for just 10 minutes a week is all it takes. The IDEA model is another great place to start:
– I – Identify a task, conversation or situation that has been on your mind and you feel you could improve on
– D – Describe the event and the outcomes
– E – Evaluate what you could have done differently
– A – Action a plan to react differently next time the task, conversation or situation occurs
Is reflective practice time consuming?
The combination of the ever-increasing technological advances in society combined with our constant access to emails, telephone/video calls and social media interactions are causing the time we spend on reflection to be reduced.
As a result, reflection can sometimes be viewed as complex and even worse, a 'waste of time.'
However, as mentioned earlier in this article, sometimes 10 minutes a week is all it takes. Furthermore, reflective learning does not necessarily require recording, it can be a mental note or a knowledge conversation with a friend or colleague. Making a written or recorded note of your reflections does however create the opportunity to reflect on progress, review your current position and develop a plan.
If you allow yourself to recognise the reflection as a skill, naturally you will give it more time and attention and before you know it, your learning and development will transform.
Top tip: A good place to start is by considering what you will reflect on?
How can reflection help our wellbeing?
Wellbeing feels more important than ever – many of us are working from home, at least for some of the time, and our personal and professional lives are merging together which can have a range of positive and also negative outcomes.
Wellbeing expert Lauren Seward, looks at why wellbeing is so important:
Acknowledging our wellbeing through reflective practice gives us permission to 'regroup' and identify a current picture for ourselves. Very simply it helps us recognise what we are doing well for ourselves, and what perhaps we are not doing so well with. In a positive and encouraging way, we can then coax ourselves to add some simple changes in the areas that will make a big difference.
Lauren Seward, wellbeing expert
Reflection for wellbeing and personal growth.
1. Learning is dependent on our state of mind and if we are feeling stressed and anxious we are less likely to fit in time for formal, structured learning, and also less likely to learn from our everyday experiences – we become functional and our ability to reflect and refine reduces considerably.
2. Development is key to wellbeing. If we are able to feel progressive in our activity we get a sense of achievement. Recognising this helps us to include it in our wellbeing priorities, rather than seeing it as an activity that we earn, or can only do when we have achieved our other priorities.
3. Structuring and prioritising our learning and development gives many of us a real sense of control and progress. It's one of those activities that can so easily fall off when life gets busy, but actually, investing time thinking about this and recognising that our learning and development priorities might need to change, helps us understand what's really important for us right now. Build time and focus on this, let go of the goals and objectives that are not serving us anymore, or even just at the moment.
Wellbeing in the workplace can and should be integral to our professional development. It allows us to identify some actions and objectives that might benefit us and our wellbeing.
Give reflective practice a go – you never know what you might learn from it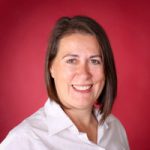 Karen is an innovator, disruptive thinker, and creative problem solver championing change to encourage self-awareness, reflection and engagement. Karen is the founder of Leap Like a Salmon. An online personalised learning platform that provides learners with the CPD tools to capture, manage and plan their CPD (continuing professional development).