There is no such thing as a traditional workplace any more. The last few decades have seen working environments change beyond all recognition. Flexible working, co-working spaces, working from home are now all the norm, meaning the traditional shared workspace needs to go that bit further in order to create healthy workplaces, so employees can work to their full potential.
A healthy workforce is essential. But it's the culture that is key. People can work from home of course – give them the right kit, the right connections and productivity can actually increase, without the distractions of a busy office. But the office is more than just a place of work. It's a community, a place for people to get together and share ideas, learn from one another and work together to drive a business forward.
If everyone is working remotely, connecting via screens at set times, then this culture – and the creativity and progression – could falter. A recent study from global recruiter Robert Walters has revealed that 60% of U.K. professionals feel "disengaged" due to lack of face time with leaders – two-thirds are "highly likely" to leave their jobs because of it. 22% report they "don't communicate" with their managers when working from home.
A good leader is empathetic and recognises the needs of everyone in their team. But everyone has different needs. Their roles and responsibilities, their home situations and their unique personalities are all variables that can greatly affect whether they would be better working from home or in an office.
The office provides that place to be together. Because of this, it's becoming more common for companies that used to have a more traditional interior, changing their style and following the lead of shared and serviced office providers, creating healthy workplaces that will welcome people in to plan, communicate and create effectively, with the option to then stay, or work remotely. Banks of desks are being removed and some smaller offices taken out to create much more open plan, informal settings, with just a handful of smaller meeting rooms for confidentiality. Communal, informal areas are based around natural light and larger open plan kitchens to encourage teamwork and collaboration.
Remember, premises need to provide comfort and support, and there are a number of ways this can be managed.
How to get the best out of your office space
Open it, zone it
Open plan is more conducive to healthy workplaces and a good workplace culture. Save the 'eyes down' work for home. Clever use of plants, paint effects, flooring, and furniture can create some smaller quieter working areas within one larger space, helping people to feel more comfortable and give privacy where needed.
Be sustainable
Climate change is the number one concern for younger employees. Almost half of UK companies say sustainability is key to their plans and 66% plan to improve their internal practices, according to HSBC's Made for the Future Report. Your workplace can illustrate your commitment to this through the materials you use. Choose suppliers who incorporate recycled, responsible and reused natural materials – vegan furniture, cotton, hemp, cork, bamboo to help reduce carbon footprints.
Biophilia
Biophilia – the use of nature – is proven to have a positive impact on mental health, with American psychologist Eric Fromm first coining the term in the 1970s, describing what he saw as an innate love of nature in humans. Studies have shown that workers' quality of life can be enriched by office landscaping: even if plants have no formal function, they lift the mood: and happy workers are more productive workers.
Bring colour in
Our own boardroom at Consensus Workspace has been filled with colours from the Dulux Colour Futures palette. The pinks and mauves are warm and welcoming and move away from the intimidating corporate cliché of the boardroom. We have a thick multilevel loop carpet tile and this all works together with the aim of evoking a feeling of home, comfort and familiarity. People need to feel relaxed in the office.
Get people out
Zoom meetings have become the norm but face to face is still a great way to get business done. The outdoors needs to be embraced, with walking meetings encouraged and exercise and fresh air incorporated into the working day. They're also a great way to connect and bond for people who now work face to face less often.
Essential lunch breaks
Make sure your team takes proper lunch breaks and get some fresh air. Providing a kettle and a microwave is not enough: if there is room, create an open plan kitchen dining area in which people can feel comfortable creating healthy meals. Provide cold water, fresh fruit and consider having cooking sessions as part of team building activities to encourage healthy eating.
Healthy workplaces are key. This is not just about work – the office is now all about company and community, as well as commercial goals and to do lists. It is about creating a space where people can thrive, feel safe and be productive.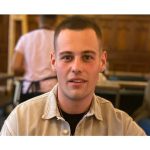 Ollie is a director at Consensus Workspace, a commercial fit out company based in Altrincham, Greater Manchester. The team offers over 25 years of expertise and specialises in retail and office interiors, with a second office in London. The company works with leading architects, designers and building professionals all over the UK.