Now that remote and hybrid working is becoming the new normal, employees are facing new challenges, such as burnout and the struggle of differentiating between work and home life. Workplace art could be a possible solution for giving employees the boost they need. 
The post-covid struggle between work and home-life
Chronic work stress no longer exists solely in the office, employees seem to be unable to separate their work from home life with detrimental effects to general well-being. In one study, 48% of remote workers said they were struggling to disconnect from work, burning the midnight oil. This trend has led to nearly half of the workforce feeling burned out—conditions detrimental to productivity and job satisfaction.
If you work at home, you're in your personal space, not your usual professional environment, with your personal and professional worlds under one roof. The upside is you have greater flexibility, but the downside is your personal life can bleed into your workday. Laundry needs to be done, dishes washed, and the house cleaned… maybe a family member keeps yelling questions from another room, causing you to keep losing your train of thought. Or on the flip side, maybe when you're working from home 24/7, you find yourself toiling overtime on the job long after you would have called it quits at the office. On top of it all, cabin fever could be sneaking up on you and many are struggling to find where to draw the line between work and life at home.
There's no question that the way we have worked has drastically changed due to the pandemic and as a result, many employees now split their time between remote and office working. As offices look to attract staff back to the office and put more of an emphasis on employee wellbeing, art can prove a valuable tool to do so by creating a creative and attractive environment for workers looking to leave the confines of their home and separate out their personal and professional lives. Zoom fatigue may not have been just a pandemic phenomenon but a longer-term issue effecting each and every one of us.
The role of workplace art and employee well-being
It's becoming more common for workplaces to focus on art, as they look to their art collections to help communicate their values, spark conversation, and improve wellbeing. When strategically executed in the workplace, a curated art collection can provide benefits to employees and clients. In fact, studies have found that art has enormous benefits for employees, increasing their productivity by 35% and wellbeing by 42%. By creating a space that employees want to be immersed in, offices can be a haven from the distractions of the outside world during the working week.
Art is a contributing factor to employee wellbeing which should be a priority in every workplace. In our own office, as a business we offer a variation of staff initiatives to our employees. For example, we offer culture days, charity days and a day of paid leave when moving house to help alleviate extra stress. Sabbaticals are offered at intervals of a staff's career, as well as hybrid working on offer.
An increase in demand for workplace art
There is an increase in demand for curated collections in corporate buildings. A corporate art collection can play an important role in making the right impression. It will be the first visual interaction between a client and potential partner, proving the importance of curating the right collection. Moreover, people increasingly want their spaces to reflect the cultural landscape and want to feel inspired by their surroundings.
Equally, businesses want to use art collections to demonstrate their shared values. Increasingly, commitments to sustainability and diversity are becoming more prominent in company requests. Where larger companies are focussing on the tools they can use to attract talent and ensure their employees are engaged, they are looking to lease art collections which are regularly rotated.
Where there has been an overall shift in corporate clients opting for artwork, we can also to track this down to individual industries. We are seeing more law firms making representation and diversity a focus. For example, law firm Mayer Brown has an internal women's association which opted for a collection from mostly female and non-binary artists as a subsequent trend, we are now seeing a demand for more environmentally conscious artwork across both the financial and tech sectors with an increasing desire for tech-enabled art.
Workplace art can support your employees mental health
Supporting employee mental health is a driving factor in staff retention and attraction. It also makes the workplace a more positive, enjoyable environment. In ever changing times, art has the potential to communicate values on a mass scale, as well as support the creative community in a sustained way. If more corporates start to embrace art in their office settings, staff will want to come into the office more and slowly we shall see a positive shift for those wanting to separate out their professional life from their personal and in effect having a positive effect on their overall wellbeing.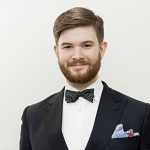 Patrick McCrae founded ARTIQ in 2009 to bridge the gap between the art and business worlds and promote fair pay for artists. Since then, ARTIQ has grown into one of the UK's leading art agencies, working with businesses in over 20 countries to embed creativity into their culture and to harness the great power of art. In 2021, Patrick was appointed to the UK Council of Creative UK, which plays a vital role in determining and shaping impact priorities, steering policy positions and sharing crucial insights from across the creative industries in the UK.