Women currently make up almost half the UK workforce and according to the Office for National Statistics, menopausal women (aged 45 to 55) are the fastest-growing economically active group. Yet, despite accounting for a significant proportion of the workforce, menopause in the workplace has been missing from HR policies and shrouded in stigma.
Research finds that for 63% of women, employers have failed to implement policies to support them during this transition. Menopause was also mentioned 207 times in employment tribunals in 2021, up 75% in 2020.
Ignoring the impact menopause has on women is estimated to cost the UK economy £10bn, as women exit the workforce due to a lack of awareness and support available. In what is thought to be the largest UK study of this demographic, one in 10 who have worked during menopause say they quit their jobs due to the symptoms.
NHS England released last year the first national NHS guidance on the menopause, stating that menopausal women working in NHS England will be able to make use of flexible working arrangements. The national guidance aims to provide employers with information on menopause and how menopausal staff can be made comfortable and encouraged to stay in work.
While the Women and Equalities Committee's recommendation to make menopause a protected characteristic and proposal for a menopause leave policy to be trialed have been rejected by ministers, businesses can – and should – still create menopause-friendly work environments.
Why is it important to educate the workforce on the menopause?
The lack of education on menopause in the workplace means symptoms are often overlooked by employers. Women may not realise some symptoms they are experiencing are even related to menopause and can lose confidence.
The frequency, severity, and duration of symptoms can vary. On average, the length of time symptoms last is about four years after the last period. Although, some women may experience the perimenopause up to 10 years before the onset of the menopause. Hot flushes, low mood, weight changes, memory problems and night sweats are a few of the most common symptoms, all of which can be exacerbated by a work environment.
Lesser-known symptoms women may miss as being menopause related include fatigue, reduced concentration, anxiety, dizziness or vertigo, to name just a few.
Employers have a responsibility to the health and wellbeing of their staff, and this needs to extend to menopause. Action plans and supportive routes into menopause healthcare should be implemented as standard. Without doing so, employers risk menopausal women quitting in their droves – and as mentioned earlier, this demographic makes up a significant proportion of the workforce. In early 2022, researchers warned that 1 million women in the UK could be leaving their jobs in the following 12 months if employers failed to provide appropriate menopause support.
Reassuringly, businesses are starting to realise that this isn't just a gender issue either. Many in the workforce will be providing support to someone who is going through menopause, as such, it's a much broader organisational issue to respond to. A wider understanding of the symptoms and side-effects amongst all employees is needed, as well as support and signposting for individuals to access the help they need.
At HCA UK, we have seen an exponential increase in GP referrals for the menopause and businesses looking to equip their teams with knowledge about the menopause through training sessions. This is a health and wellbeing topic which can deliver ROI for businesses, creating a supportive culture and helping women stay in work.
So, how can businesses tackle menopause head on and implement a strategy that will create change?
What steps can employers take to provide menopause support?
A crucial step to redirecting the current narrative is for companies to ensure that menopause in the workplace is present within HR policies. This could be through focused menopause action plans and outlining supportive routes into menopause healthcare.
From a practical perspective, there are a few considerations employees can make to alleviate some of the challenges menopausal women have to deal with in the workplace.
To start, if uniforms are required, make sure you are taking the concerns of your employees on board and are flexible to individual needs. For example, can thermally comfortable or breathable fabrics be used instead? This can also extend to providing optional layers and encouraging employees to remove aspects that may cause added discomfort.
Menopause can cause drastic changes in body temperature, so businesses should review workplace temperature and ventilation control policies. This can include providing desktop fans, strategically locating workstations away from heat sources and providing access to cold drinking water in all work environments.
Working arrangements should be flexible to ensure they accommodate menopausal women who may need more breaks during the day or may need to leave work early if symptoms become severe. Employers should also facilitate a comfortable working environment wherever possible, including easy access to washroom and toilet facilities with sanitary products available, and access to private areas where women can rest and recover.
These may seem like small adjustments; however, they will make a considerable difference to improving individuals' physical, mental and emotional wellbeing. It is important to remember that menopause affects people in different ways and symptoms can fluctuate, so adjustments should be tailored to the individual and with a flexible approach.
While it is great that conversations are happening, there's still a long way to go to break the culture of silence and for workplace support to become commonplace. It's a health and wellbeing issue that serves the entire workforce and yet has been missing from leaders' agendas.  Businesses need to provide support and educate the entire organisation to create an inclusive and supportive environment to unlock the business benefits of keeping individuals in the workforce.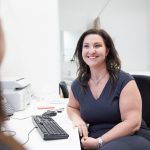 Robyn has worked as a Private GP in Central London since the beginning of 2007. She joined Roodlane in January 2008 and her interests include General Medicine, Occupational Health and Women's Health. She has post-graduate qualifications from the Royal College of Obstetricians & Gynaecologists and with the Faculty of Occupational Medicine. She was one of the founders of Roodlane's Menopause Service group in 2019 ensuring that this working demographic has access to treatment and support.