As March is recognised as Women's History Month,  it's a good time to reflect on women in the workplace, particularly older, experienced women, and consider how and why employers should actively be supporting menopausal women in the workplace.
In the UK, currently, 51% of the population are women. Of those, nearly five million women are aged 50-64 and are currently in employment. This group is the fastest-growing demographic in the workplace. With the current problems employers are experiencing recruiting staff, it makes sense for this group of women to be looked after. However, when women go through menopause, being supported in the workplace is not always something which happens.
It's important to remember that menopause is not just something that just happens to women in their 50s. It can affect those in their 40s through to late 60s, or may occur even younger naturally due to a medical condition or surgery.
Even though nearly 8 out of 10 menopausal women are in work, and the fact that 3 out of 4 women will experience menopausal symptoms of some sort, many still feel unsupported at work. In fact, up to one in four women consider leaving their jobs because of menopausal symptoms!
The menopause can bring with it a wide variety of symptoms (there are currently 34 recognised). These vary widely and can be physical symptoms such as hot flushes, headaches, poor sleep and erratic periods, or psychological, such as anxiety, low mood, and lack of confidence and poor concentration. These symptoms often impact not only their personal life but their work life as well.
According to the Office of National Statistics, the groups who experienced the highest rates of sickness absence included older women and those working in large organisations. Findings recently released by the Balance support app, showed that the true cost of the menopause on the country's economy was an amazing £10 billion for organisations.
Until we try to tackle some of the difficulties that women are facing at work, we stand to lose experienced and talented women. These women should be at the peak of their career rather than considering retirement or feeling alienated and alone.
Despite the Government Equalities Report on Menopause and the Workplace recommending employers put in place training, processes and information so all colleagues have a clear understanding of menopause, many companies still do not have these. It is still the case that a third of women who have suffered symptoms of menopause have hidden the fact at work, and up to 62% of women who experience menopausal symptoms say it had an impact on them at work.
Even though the menopause will happen to all women, almost half of women don't seek medical advice and the majority don't feel comfortable talking about menopause with their line managers. It could be that there is still a negative perception of the menopause, and many women are still embarrassed to talk about it. This, combined with a general lack of accurate knowledge by women who are not necessarily aware that what they are experiencing is due to menopausal symptoms and the fluctuating hormones, makes it a difficult situation.
Unfortunately, this may be partly due to the fact that many line managers don't feel confident talking about menopause. They don't know enough about it or how they can help. Unlike maternity, where it's usually clear with guidelines on exactly which documentation to complete, this often does not happen, and therefore supporting menopausal women is frequently overlooked.
It may also be more complicated for menopause as every woman's experience is different. This means that managers need training to understand the range of possibilities and have guidance on the support their particular organisation can provide to help. Due to the nature of the menopause, this is also something which needs to include regular conversations with the employee, to see if anything has changed or needs amending as the menopause progresses.
However, it's usually simple, low-cost support, like a desk fan or time off to visit their GP that really helps. Sometimes even just the opportunity to have a conversation about menopause and how it is impacting an individual really helps. The guidance in the government's Menopause and the Workplace document also recommends workplace training, raising awareness of menopause at work and introducing a variety of workable solutions. This includes fostering an environment in which women feel comfortable and confident talking to their managers, where managers follow clear guidelines and direct women to occupational health, if necessary.
These things then can help any employer who wants to attract and retain a diverse and inclusive workforce. This starts with creating the environment to talk about menopause openly and without embarrassment. It is a natural phase in every woman's life that needs to be normalised. With this life stage lasting around 8 to 10 years (although even this varies), it is something which needs to be reviewed regularly, and it's a long time for a woman to be out of the workplace.
As we are an ageing population, with fewer new entrants from education joining the workforce, organisations need to look after their 'older' workers to have the talent they need to run their businesses.
These are compelling reasons for supporting menopausal women in the workplace, and when it is done correctly, it supports an inclusive culture which is a win-win for all.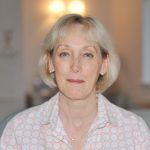 Shirley is a menopause coach for men and women. Balancing Butterflies supports menopausal women who are struggling with the symptoms of stress, self-esteem and feeling overwhelmed plus weight loss. Shirley recently set up Manohpause supporting men who can suffer from similar symptoms associated with declining hormone levels (andropause).
As a qualified Hypnotherapist, Neuro-Linguistic Programming (NLP) Practitioner and holistic therapist, Shirley provides men and women solutions which enable them to feel back in control again, so that they can be confident and optimistic. Shirley's mission is to educate, inform and empower individuals and companies and to reduce the taboos around menopause and andropause.