Movember is an annual event that takes place during the month of November, where men around the world grow moustaches to raise awareness and funds for men's health issues, particularly prostate cancer, testicular cancer, and mental health. The name "Movember" is a portmanteau of "moustache" and "November."
The importance of Movember
Movember has become an important global movement with several key objectives:
Raise Awareness: Movember aims to increase awareness about men's health issues, which often go overlooked or unaddressed. It encourages open discussions about prostate cancer, testicular cancer, mental health challenges, and suicide prevention.
Fundraising: The Movember Foundation, a nonprofit organisation that originated this initiative, raises funds to support research, education, and programs related to men's health. These funds are used to develop better treatments, provide support for those affected by these health issues, and promote overall well-being.
Promote Men's Health: Movember encourages men to take responsibility for their health by getting regular check-ups, knowing their risk factors, and seeking help when needed. It also promotes healthier lifestyles through physical activity, better nutrition, and mental well-being practices.
How to get involved:
Grow a Moustache!: Men can participate by growing a mustache during November, which serves as a visual conversation starter about men's health. They can then encourage friends, family, and colleagues to support their efforts with donations.
Join a Team: Many organisations form teams of employees or members to participate collectively in Movember. Team members can grow mustaches, engage in fundraising activities, and create a supportive network.
Education and Advocacy: Organisations can use their platforms to educate their employees or members about men's health issues, provide resources for support, and promote a culture of openness and well-being. They can also advocate for men's health initiatives in their communities and workplaces.
Social Media Engagement: Share information and updates about Movember on social media to raise awareness and engage with a wider audience.
Workplace Wellbeing Professional & Movember
Workplace Wellbeing Professional actively encourages participation for Movember, as not only does it address critical health issues that disproportionately affect men, but also challenges traditional stereotypes of masculinity by encouraging men to speak up.
WWP publish frequently about mens health, both in and outside of the workplace. Take a look at some recent news stories below:
Some of our exclusive feature articles from wellbeing and mental health experts can be found below:
Further information and resources
The official Movember website, brimming with information and resources on how to get involved, can be found here: https://eu.movember.com/
Prostate Cancer UK provides a wealth of information relating to Movember and men's health, including free information on prostate cancer and prostate diseases that can be tailored to the needs of each man: https://prostatecanceruk.org/about-us/movember/ 
Head to Man Therapy for advice on substance abuse, depression, suicide, grief, anger, sleep and much more: https://mantherapy.org/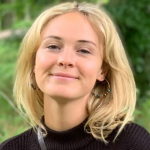 Joanne is the editor for Workplace Wellbeing Professional and has a keen interest in promoting the safety and wellbeing of the global workforce. After earning a bachelor's degree in English literature and media studies, she taught English in China and Vietnam for two years. Before joining Work Well Pro, Joanne worked as a marketing coordinator for luxury property, where her responsibilities included blog writing, photography, and video creation.