Since ChatGPT's launch last November, the search for artificial intelligence has rocketed by 1,700%. The chatbot, which has attracted over 100 million users, has been the centre of much debate in recent months, especially when it comes to its position within the workplace.
Keen to learn more about the use of ChatGPT within businesses across the UK, Indusface surveyed 2,000 workers across varying job levels and sectors to learn more about the use of ChatGPT in the workplace.
The top 10 industries utilising ChatGPT the MOST
| | | |
| --- | --- | --- |
| Rank | Industry | % of workers using ChatGPT |
| 1 | Advertising | 39% |
| 2 | Legal | 38% |
| 3 | Arts & Media | 33% |
| 4 | Information & Communication Technology | 30% |
| 5 | Construction | 30% |
| 6 | Real Estate & Property | 29% |
| 7 | Manufacturing | 29% |
| 8 | Call Centre & Customer Service | 29% |
| 9 | Healthcare & Medical | 28% |
| 10 | Government & Defence | 28% |
Please see the full dataset containing the survey results here. 
Findings
The study reveals that Advertising is the industry which uses ChatGPT the most on the job, with almost two-fifths (39%) of employees admitting to using it for work. Among them, 11% admit to using it more than once a week.
Only slightly more than 5% of people working in the industry said they will never use ChatGPT, showing a more welcoming and open-minded attitude towards applying ChatGPT within the advertising industry.
Businesses within the Legal sector rank as the second industry using ChatGPT the most. 38% of legal workers surveyed admit to using ChatGPT or alternative methods of AI for work. This is perhaps unsurprising since recent reports show that AI is reshaping the legal industry by improving contract efficiency and automation.
Arts & Media comes in third place, with 33% of workers within the sector admitting to using ChatGPT for their work.
According to the findings, art workers are applying AI to their work more frequently than any other industry within the top 10, with over 13% admitting to using it at least once a week.
Despite the popularity of ChatGPT, over half (55%) of business workers stated that they do not trust working with another business that uses ChatGPT or similar AI in their workplace!
The top five ways UK businesses are utilising ChatGPT
| | | |
| --- | --- | --- |
| Rank | Reasons businesses use ChatGPT | % of business using it for this reason |
| 1 | Writing up reports | 27% |
| 2 | Translations | 25% |
| 3 | Research purposes | 17% |
| 4 | Client emails | 11% |
| 5 | Internal emails | 8% |
According to the survey, work reports are most likely to be written by ChatGPT or AI, with it being the top reason people (27%) are using AI for! Coming second is translation with a quarter (25%) of people using ChatGPT at work for this reason. The third reason is for their own research purposes (17%).
At the bottom of the table, 11% of employees are using ChatGPT to write their client emails!
Venky Sundar, Founder and President of Indusface, shares his insight on the risks and benefits of using ChatGPT:
Specific to business documents the risks are: legal clauses have a lot of subjectivity, and it is always better to get these vetted by an expert. The second risk is when you share proprietary information into chatGPT there's always a risk that this data is available for the general public, and you may lose your IP. So never ask chatGPT for documentation on proprietary documents, including product roadmaps, patents, etc.

The benefits are that a V1 draft could be easily obtained, and it is helpful to frame thoughts, especially for generic templates such as email templates and so on.
Venky Sundar, Founder and President of Indusface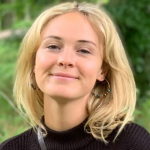 Joanne is the editor for Workplace Wellbeing Professional and has a keen interest in promoting the safety and wellbeing of the global workforce. After earning a bachelor's degree in English literature and media studies, she taught English in China and Vietnam for two years. Before joining Work Well Pro, Joanne worked as a marketing coordinator for luxury property, where her responsibilities included blog writing, photography, and video creation.