The Office for Health Improvement and Disparities (OHID) has launched its latest Every Mind Matters campaign after research indicated that seven out of ten British people (67%) regularly experience the 'Sunday Scaries' (anxiety about the forthcoming return to work) – a figure increasing to three-quarters (74%) for those aged 18 to 24.
Work stresses, lack of sleep and looming to-do lists were reported as the top causes of feelings of stress or anxiety on a Sunday.
The 'Sunday Scaries' are shown to peak just after 5pm. This is the point where, for many individuals, thoughts and worries turn to the week ahead; with Google searches around sadness spiking as people turn to the internet for help. Searches for 'trouble sleeping' also peak on a Monday, reflecting the nation's struggle to unwind as the weekend draws to a close.
In the last ten years, searches for anxiety have increased 170%. To distract themselves from the 'Sunday Scaries', young people aged 18 to 24 are most likely to scroll on social media, whereas those aged 25 to 32 are most likely to binge watch TV and those aged 33 to 40 are most likely to comfort eat.
TV personality, Scarlett Moffatt, explains the 'Sunday Scaries' as:
"We've all been there when you're trying to relax and enjoy the last few moments of the weekend but can't stop worrying about the week ahead!"
TV Personality, Scarlett Moffatt
Moffatt goes onto emphasise the benefits of making adjustments to her daily routine, such as walking with a friend, in order to combat these feelings. This directly mirrors recommendations from the Every Mind Matters campaign, which encourages individuals to be kind to your mind by doing small things which can ultimately make a big difference to mental wellbeing.
Through the Every Mind Matters website, people can get a personalised 'Mind Plan' giving them tips to help deal with stress and anxiety, boost their mood, sleep better and feel more in control. Secretary of State for Health and Social Care, Thérèse Coffey, said:
"My focus is on making sure people can get the care they need, when they need it – and that includes for their mental wellbeing."
Secretary of State for Health and Social Care, Thérèse Coffey
The Every Mind Matters tool is a positive way to build mental resilience and help ward off the anxiety many feel on a Sunday. It is simultaneously useful for early intervention to build mental resilience. Preventing people's mental health from deteriorating is a key part of the government's Plan for Patients, supporting people to stay well and stay within the community.
As it stands, all fingers point to high levels of success from the wellness campaign. Since it was first launched in October 2019, over 4 million 'Mind Plans' have been created supporting individuals around the country. The continuous support from a number of famous faces, such as Radio 1 host Vick Hope and pop star Tom Grennan, means this number will likely continue to rise.
Leading psychologist, Kimberley Wilson, explains her take on Sunday Scaries and advice on how to combat it:
"Many people experience a feeling of heightened anticipatory anxiety on a Sunday, otherwise known as the 'Sunday Scaries'. Often when people feel sad or anxious, they spend time trying to distract themselves, by binge watching TV or spending hours scrolling on social media, for example. But these 'distraction' habits can actually exacerbate the problem.

It's so important to enjoy every last minute of your weekend and start the week in the best frame of mind. So, if you experience the Sunday Scaries like clockwork every week or feel sad or anxious, try getting active, which can help you to burn off nervous energy, writing down or keeping a diary of what you are doing and how you feel at different times to help identify what's causing anxiety and what you need to do to help manage it. Small things can make a big difference to our mental wellbeing."
Find out more
Search Every Mind Matters for more free ways to be kind to your mind. Take the free, Mind Plan quiz to get a personalised mental health action plan with practical tips to help you deal with stress, anxiety, low mood and trouble sleeping.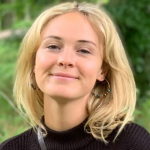 Joanne is the editor for Workplace Wellbeing Professional and Family History Zone. After obtaining a bachelors degree in English literature and media studies, Joanne went on to spend two years of her life writing and teaching English in China and Vietnam. Prior to joining Black and White Trading, Joanne was a marketing coordinator for luxury property in Brighton focusing on blog writing, photography and video creation.