Art and culture combined with wellness-enriched workspaces is found to promote learning, creativity, contentment, socialisation and a sense of pride in the workplace. These are the findings from a survey conducted among 3,000 office workers nationwide which revealed this is particularly true of younger employees.
The survey included a broad range of office workers, including 1,000 from London and 250 from 10 other major cities comprising of Birmingham, Bristol, Cardiff, Glasgow, Leeds, Manchester, Newcastle, Nottingham, Sheffield, and Southampton. Employees worked in offices that ranged from highly enriched, artfully decorated environments to lean spaces with little more than corporate branding on display.
Dan Scanlon, the Executive Vice President of Brookfield Properties', highlights how the pandemic has disrupted working habits resulting in companies re-examining their working environments and engagement with employees. Scanlon goes on to explain what he hoped the survey would achieve:
We hope the Art of the Workplace Report will help support the business case for employers to invest in creating spaces and cultures that enrich their employees' lives – not just their productivity and creativity at work, but their mental health and wellbeing as a whole – and aid future planning for the workplace.
Dan Scanlon, Brookfield Properties' Executive Vice President
The survey, commissioned by Brookfield Properties, in partnership with The School of Life, established the following results:
63% of 18-to 29-year-olds prefer working in the office to working at home; this increases to 75% of those who work in offices with a lot of art and culture.
64% of workers think cultural and social events in the workplace help them work more effectively.
Nearly seven in ten office employees (67%) stated that they would benefit from a wellbeing app to connect them to cultural events in the workplace.
69% of adults believe that having interesting and visually attractive artworks in the office positively impacts their wellbeing; and 77% agree that having interesting social, cultural or wellbeing events available contributes to their wellbeing.
87% of workers who have no exposure to cultural events (arts, wellbeing and social events at work) at work feel uninspired day to day in their workplace.
86% of those who have access to a wide range of events and activities feel their office provides a good physical and mental barrier which aids work-life balance.
The in-depth report, layered with expert commentary, indicates that thoughtful arts, cultural and wellness events in the workplace make people feel engaged, motivated, and energised, and helps create a sense of community.
"There is no trade-off between wellbeing and productivity, the two variables correlate positively, and this research shows that art and cultural experiences benefits performance. Offices without character and a sense of culture do not get the best out of their staff. We've found that generally enriching a space with art raises productivity by up to 17%, but if you go further and engage workers it can rise by up to 32%."
Dr. Craig Knight, Registered Psychologist and founder of Identity Realisation Ltd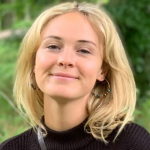 Joanne is the editor for Workplace Wellbeing Professional and Family History Zone. After obtaining a bachelors degree in English literature and media studies, Joanne went on to spend two years of her life writing and teaching English in China and Vietnam. Prior to joining Black and White Trading, Joanne was a marketing coordinator for luxury property in Brighton focusing on blog writing, photography and video creation.