The winners of the Financial Wellbeing Impact Awards have finally been announced.
The expert judging panel deliberated over 8 categories, scoring blind and assessed by an aggregate score. With an incredible number of entries across all industries, the winners come from a diverse and talented group of nominees.
A selection of organisations is celebrated as highly commended to acknowledge their outstanding efforts too. Introducing the winners of Financial Wellbeing Impact Awards 2023:
Most impactful communication: Canada Life
highly commended: SAP
Biggest impact on benefits or retirement plan uptake: AVC Wise
highly commended: Johnson & Johnson
Most inclusive experience: Kyndryl
highly commended: RNIB
Wider business impact: Accenture
highly commended: Siemens
Financial wellbeing champions: Hastings Direct
highly commended: AWE
Best financial wellbeing strategy: Intuit
highly commended: Molson Coors
Biggest impact on financial health: Money Sweetspot
highly commended: Vodafone
Global impact via financial education: Vertex
highly commended: Adobe
Quote from Tim Perkins, nudge Co-Founder:
Massive congratulations to all our fantastic winners. It truly has been a night to remember and everyone who made the shortlists should be very proud of their achievements. Well done everybody! The financial wellbeing community is a family who truly cares about making a positive impact on people's relationship with money. With entries from every industry, the awards reflect the tremendous growth in financial education and we're proud to be part of the story.
Tim Perkins, nudge Co-Founder
Nudge also pays tribute to their expert judges, without whom, they could not have chosen the winners. The judges were:
Debra Corey: Award-winning HR consultant, world-class speaker, and five-time best-selling author.
Laura Jackson:Independent benefits and wellbeing strategic consultant. Ex Global Head of Benefits and Wellbeing, Credit Suisse.
Poku Banks:Personal Finance Content Creator with a combined following of 400,000. Co-Founder of The Gen Z Club.
Rob Hicks:Chief People Officer, Atheneum.
Michael Whitfield:Director and chairman in financial services, employee benefits and technology.
Kalpana Fitzpatrick:Financial journalist and author.
Richard Donovan:Global Head of Social Innovation and UK&I Head of Corporate Responsibility, Experian.
Jessica Inskip: Trader and commentator on CNBC, FOX Business, and the TD Network.
David Smith: Economics Editor, Sunday Times.
Carole Daley:Global Share Plans Manager, Burberry.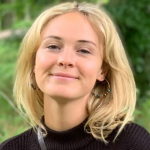 Joanne is the editor for Workplace Wellbeing Professional and has a keen interest in promoting the safety and wellbeing of the global workforce. After earning a bachelor's degree in English literature and media studies, she taught English in China and Vietnam for two years. Before joining Work Well Pro, Joanne worked as a marketing coordinator for luxury property, where her responsibilities included blog writing, photography, and video creation.