Studies show that just breathing in sea air helps the brain and body produce the chemicals you need to keep you balanced, well and healthy.
To help British families enjoy some of that free, restorative healing potion over the school holidays, the outdoor retailer TOG24 has revealed the Top 10 family coastal walks in England.
Chapel St Leonards to Chapel Point, Lincolnshire
This accessible coastal walk is packed with family-friendly activities, sandy beaches and remarkable viewpoints before reaching its final stop at the stunning North Sea Observatory.
Head towards the beachfront via the amusements on The Pullover. Note that there is a short but steep incline, but once you reach the top, you'll be rewarded with incredible sweeping panoramas of the coastline.
Anderby Creek to Wolla Bank Beach, Lincolnshire
Winding sand dunes, bird spotting and even a Cloud Bar feature in this two mile-long circular walk from Anderby Creek to Wolla Bank Beach.
Grab picnic supplies from the Anderby Beach Cafe and head up the (steep) path to the shore. On your left, you'll find The Cloud Bar — the world's first dedicated cloud observation platform — where visitors can try their hand at cloud spotting using the five rotating cloud mirrors.
Then, follow the King Charles III England Coast Path, this will take you to the Lincolnshire Coastal Country Park, where eight Wildlife Trust nature reserves offer little ones the chance to spot all kinds of creatures.
Ferrybridge to Castle Cove Cruise, Dorset
This former coastal railway trail is filled with striking landscapes, glorious gardens and even a castle. It's also mostly step-free apart from beach access.
Rodwell Trail's tarmac path stretches along the coast, presenting sensational views across Small Mouth Bay to the Island of Portland. The sandy beach regularly attracts waves of paddle boarders and is great for taking a dip should the weather allow.
Head past Castle Cove Sailing Club away from the coast and you'll soon reach the tropical oasis of Sandsfoot Gardens. Here history buffs will find the castle's remains, and while the structure is currently closed due to coastal erosion, there are various information boards scattered around that help bring its story to life.
Tour Weymouth Beach & Nothe Gardens, Dorset
Beginning at Weymouth train station, the first checkpoint is the seafront Grade II listed Queen Jubilee Clock, built in 1888 to commemorate the Golden Jubilee of Queen Victoria.
As you make your way along the promenade, there are plenty of places to sit and grab an ice cream, along with amusements, fairground rides and even Weymouth's Sandworld, which is filled with a series of impressive sand sculptures.
Eventually, you'll reach Alexandra Gardens, where you'll find yet more amusements, and St Alban Street, a lovely narrow road filled with independent businesses and cafes.
Trundle High at Torrs & Tunnel Low, North Devon
Undoubtedly one of the best cliff walks in North Devon, this route sprawls through Victorian pathways and finishes up at the historic tidal pools.
Taking the King Charles III England Coast Path, there's a myriad of awe-inspiring views out to the Arganite Bay and across the Bristol Channel. After zigzagging through the cliff's paths, the summit offers a remarkable 360 vantage point and features a toposcope designed by the Arts College.
Work your way back down and the route moves towards the towering Grade II listed Bath House. Next to this is the entrance to the subterranean beach tunnels — originally carved by Welsh miners in the 1820s. The public can now explore these caverns for a small entry fee.
Finally, make your way to the former ladies' beach and bathing pool — the pool can still be used at low tide and is the ideal way to unwind after your travels.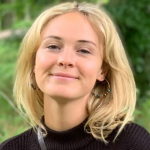 Joanne is the editor for Workplace Wellbeing Professional and has a keen interest in promoting the safety and wellbeing of the global workforce. After earning a bachelor's degree in English literature and media studies, she taught English in China and Vietnam for two years. Before joining Work Well Pro, Joanne worked as a marketing coordinator for luxury property, where her responsibilities included blog writing, photography, and video creation.