Employers risk the absence and resignation of menopausal staff if the psychological symptoms of the condition are not properly recognised and treated.
Digital health app Peppy believes that while many employers have taken great strides in recognising the physical manifestations of menopause – such as hot flushes – the psychological impacts are still under-recognised, often misdiagnosed and therefore wrongly treated, leading to a greater impact on businesses.
Types of psychological symptoms and misdiagnosis
Memory loss, low self-esteem, disturbed sleep, poor concentration and feelings of dread, anxiety and rage are all commonplace in staff experiencing the menopause. The most common misdiagnosis of these symptoms is depression with many people being wrongly treated with anti-depressants or sleeping tablets.
When an individual's menopause symptoms are misunderstood or mismanaged, it means that normal workplace tasks and activities such as writing a report, attending a meeting, or giving a presentation can feel uncharacteristically overwhelming. This can lead to unnecessary staff absences and potential resignations if staff feel unable to cope in the long term.
Kathy Abernethy, Director of Menopause Services, Peppy said:
Menopausal symptoms can have an unexpected impact on the mind and mood of employees and so it's vitally important that employers understand the physical and psychological effects as they can be unsettling and have just as much impact on work, relationships and daily life as the better-known physical symptoms.
Kathy Abernethy, Director of Menopause Services, Peppy
Employee awareness
As well as improving awareness of the psychological symptoms of menopause amongst the HR department and line managers across an organisation, it's important to encourage better understanding amongst all staff because employees may not always recognise the symptoms either. Peppy's experience shows that employees who are going through menopause can themselves associate the symptoms with mental health issues or even worry about degenerative conditions such as dementia.
Kathy Abernethy concluded:  
With it becoming increasingly difficult to get a GP appointment, employers have a great opportunity to step in and support their menopausal staff so that they can receive timely and specialist support from practitioners who are experts in the field and have a greater depth of knowledge about both the physical and psychological aspects of menopause. Not only will this directly improve the quality of life for their staff but there will be a great deal less disruption for the employer too.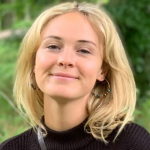 Joanne is the editor for Workplace Wellbeing Professional and has a keen interest in promoting the safety and wellbeing of the global workforce. After earning a bachelor's degree in English literature and media studies, she taught English in China and Vietnam for two years. Before joining Work Well Pro, Joanne worked as a marketing coordinator for luxury property, where her responsibilities included blog writing, photography, and video creation.