A new study delving into the experiences at work of 3000 UK 'deskless' employees has revealed retail employees feel most appreciated by their managers and are more likely to recommend a career in the industry to others – compared to those working in hospitality, warehousing, transport and distribution.
While recent strikes in other sectors have highlighted employee dissatisfaction, the global study by workforce management specialists Quinyx found that UK retail staff increasingly feel valued by their bosses – two-thirds (64%) believe their work is appreciated, up from 57% in 2022.
Only half of employees (53%) in logistics-focused roles – including shipping, distribution, transport and warehousing – feel the same, while 60% of hospitality workers consider themselves valued while on the job.
The research revealed that three-quarters of shop staff (78%) received a pay rise in the last year, with one in five (21%) offered a financial boost of 10% or above. And over half (53%) plan to stay in their current role for three years or more.
Retail employees are also more likely than other sector workers to believe their job provides career development opportunities – 65% credited their organisations for offering room for growth, compared to 55% of those in logistics and 57% in hospitality roles. Three in five shop staff (61%) would recommend a retail career to others, citing the variety of the job as the main reason for a recommendation (32%).
Additionally, flexibility is greater in retail than other industries, according to the Quinyx study: 60% of retail employees have a say on the hours they work, compared to 55% of hospitality workers and 50% of those in logistics-based roles.
The study entitled 'State of the Frontline Workforce', polled more than 13,000 deskless employees in total. It highlights the changing nature of 'manual' roles: in the UK, most employees now grapple with five or more work-related apps each day – on their phones or computers – to carry out their jobs, and the vast majority (72%) of all workplace interactions now happen via technology, not in person.
In direct contrast to the stereotype of 'Gen-Zers' actively avoiding speaking on the phone, the study found that younger UK workers are most likely of all age groups to communicate about work matters via phone call (15%, compared to 10% of 25-44-year-olds).
Simon Sykes, Quinyx's UK country manager said:
Amidst ongoing economic instability, employers must consider the 'bigger picture' of employee engagement and check whether the whole package they're offering to staff – pay, career development, flexibility, a welcoming environment – is enough to build loyalty and not have them looking elsewhere.

The changing nature of deskless jobs and the role of technology should also be considered. While it's great that employers are using tech to facilitate roles and hopefully make life easier for staff, using five apps every day could end up being a hindrance rather than a help – particularly when just one or two apps might be more effective.
Simon Sykes, Quinyx's UK country manager
To read the data in full, download the brand new Quinyx report, 'State of the Frontline Workforce 2023′.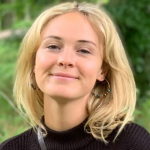 Joanne is the editor for Workplace Wellbeing Professional and has a keen interest in promoting the safety and wellbeing of the global workforce. After earning a bachelor's degree in English literature and media studies, she taught English in China and Vietnam for two years. Before joining Work Well Pro, Joanne worked as a marketing coordinator for luxury property, where her responsibilities included blog writing, photography, and video creation.