Talent acquisition scaleup Jobilla has equipped its freshly opened offices in Berlin with Nordic biophilic green wall technology. The walls were designed and installed by Finnish indoor nature technology company Naava.
Jobilla and Naava started working together five years ago after Jobilla's previous office in Helsinki, Finland, had less than satisfactory air quality in one of its conference rooms. The renovation of the conference room was not designed to have proper air ventilation, which made working conditions unbearable, according to employees.
As part of its expansion into the German market, Jobilla moved into its new offices in Berlin in January 2022. The offices are located in a renovated brewery that was built in 1899. The office is equipped with five Naava smart green walls, and more will be added. Each Naava wall is strategically placed in common areas where everyone can experience their benefits.
Eeva Niemelä, Head of Project Business & Design at Naava, emphasises the importance of biophilic design for employee-friendly office spaces:
According to research, the diversity of microbes on our skin improves our immune system. This is why we want to bring nature and natural air back to those areas where most of us spend 90% of our time, which is indoors, usually in offices with dry air and harsh overhead lighting.
Eeva Niemelä, Head of Project Business & Design at Naava
With proprietary technology supported by AI, the living plants of the walls purify the air in the office, removing harmful chemicals and improving air quality, and also optimise the humidity in the space. The natural greenery is visually calming and creates a stress-relieving ambience, coupled with the plants' subtle acoustic stimuli, reminiscent of the sound of running water in nature.
Growing strongly, Jobilla's total revenue for 2022 grew by 123% compared to 2021, coming in at €10.9M – over 15 times more than four years ago. Due to ambitious growth goals, supporting employees' mental and physical well-being is a top priority for the company.
Tommi Siro, Co-Founder and CGO of Jobilla, commented:
We want to ensure that our employees feel good at work, and in their everyday lives. And all of this, of course, as sustainably as possible. That's why we also use Naava in Berlin. Naava is a very special wall that ensures that the air our employees breathe in is clean, and healthy. When we rented the first office in Berlin, I knew we needed Naava technology here as well. The difference we noticed back then in Finland was just massive and our employees really enjoy the walls.
Tommi Siro, Co-Founder and CGO of Jobilla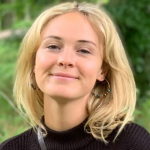 Joanne is the editor for Workplace Wellbeing Professional and has a keen interest in promoting the safety and wellbeing of the global workforce. After earning a bachelor's degree in English literature and media studies, she taught English in China and Vietnam for two years. Before joining Work Well Pro, Joanne worked as a marketing coordinator for luxury property, where her responsibilities included blog writing, photography, and video creation.