Skillsoft, a leading provider of transformative learning experiences, announced a content partnership with GoodHabitz, a provider of online skills training and professional development. The collaboration will expand the content library available to customers and learners, with a focus on mental health and well-being in the workplace, as well as a wide range of skills such as personal productivity, leadership development and communication.
According to a survey by the American Psychological Association, 57% of workers have experienced a mental health condition in the past year, and over half of all working adults have reported feeling burnt out at work.
Through this partnership, Skillsoft and GoodHabitz will offer access to courses such as "Bye-Bye Burnout," "Mind Your Brain," "Oh Yes It's Stress," "The Power of Sleep," and "Zest for Life," to help learners prioritise their mental health, well-being, and personal productivity & leadership skills.
General manager of Leadership & business at Skillsofrd, Rashim Mogha, commented:
Research shows that only 34% of employees say their company's leadership speaks openly about mental health, and only three in five employees agree that their manager cares about their emotional well-being. This calls for organisations to do more to support their employees' health and mental well-being.

To deliver on their key strategic initiatives, organisations must ensure their employees can perform at their top potential. The relationship between work and wellness can no longer be fragmented. Adding GoodHabitz to our portfolio of content partners enables our customers to provide on-demand solutions to their employees to manage stress, be resilient, and leverage the skills developed using this content to flourish at work.
 This partnership aligns with Skillsoft's mission of delivering transformative learning experiences and making learning widely accessible to organisations and individuals. With its open platform strategy and architecture, Skillsoft seamlessly integrates leading partners' content, providing organizations the flexibility they need to achieve their learning goals.
Sander Kok, COO & Head of GoodHabitz Studios, GoodHabitz, commented:
Skillsoft and GoodHabitz share a similar mission in that we are both dedicated to making learning an intrinsic part of the daily work routine.
GoodHabitz's content is localised, not just translated, giving customers truly adapted content for their specific culture and language. The courses will be available in more than 15 languages, including French, Italian, Portuguese, Spanish, Danish, Swedish, Dutch, Polish, and German.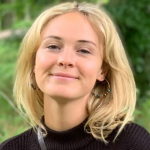 Joanne is the editor for Workplace Wellbeing Professional and has a keen interest in promoting the safety and wellbeing of the global workforce. After earning a bachelor's degree in English literature and media studies, she taught English in China and Vietnam for two years. Before joining Work Well Pro, Joanne worked as a marketing coordinator for luxury property, where her responsibilities included blog writing, photography, and video creation.