Amidst financial uncertainty and a cost-of-living crisis, women across the UK are increasingly concerned that discussing their health in the workplace could lead to them losing their job. The research has also revealed a persisting lack of support for those experiencing menopause.  
With more than a third of women (38%) still not comfortable discussing their mental health at work, the data from not-for-profit healthcare provider, Benenden Health, has reported a 1,000% increase in concerns that this may lead to them losing their job, compared to two years ago.
Meanwhile, half (44%) of employers agree that a stigma also remains around the topic of menopause. The findings continue to raise concern around support for those experiencing menopause – not simply to mitigate the physical effects but to also help manage the associated mental health challenges.
The survey of 1,000 employees and 500 employers found that a third of women between the ages of 35 and 54 have, or are, experiencing a negative impact on their mental health due to the menopause, with this figure rising to 47% for those aged between 55 and 64.
As a result, a huge number of employees across the UK are currently experiencing menopause-related mental health challenges, with Benenden Health calling on businesses to introduce dedicated and long-term support mechanisms and policies to support affected workers.
In the meantime, women at work are continuing to lose confidence in their skills and abilities, taking time off work, experiencing mental health conditions such as stress, anxiety and depression and ultimately leaving their job.
Naomi Thompson, Head of Organisational Development at Benenden Health, said:
Whilst the topic continues to be a difficult one to breach, discussions about the impact of the menopause need to become a priority in offices and workplaces up and down the UK. Only by looking after people can businesses truly succeed, which is why an appropriate strategy and support that makes a genuine difference should sit at the heart of plans.

Often the support around the menopause that is required within the workplace is not too complex or expensive, so opening up channels of communication and taking steps to support employees can have a hugely positive impact on both individual wellbeing and overall business performance.
Naomi Thompson, Head of Organisational Development at Benenden Health
Benenden Health enables businesses to offer employee health care. This includes round the clock care such as mental health helplines, 24/7 GP plus access to services such as mental health counselling support and medical diagnostics. Members can also receive support for mental health symptoms caused by the menopause, receive diagnoses for undiagnosed urogenital symptoms and use physio services to help with muscular skeletal issues.
For more information about Benenden Health and to visit its online menopause hub, go to https://www.benenden.co.uk/menopause-hub/ and to view its full report into the mental wellbeing of employees, go to: https://www.benenden.co.uk/healthcare-for-business/mental-health-report/.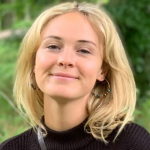 Joanne is the editor for Workplace Wellbeing Professional and has a keen interest in promoting the safety and wellbeing of the global workforce. After earning a bachelor's degree in English literature and media studies, she taught English in China and Vietnam for two years. Before joining Work Well Pro, Joanne worked as a marketing coordinator for luxury property, where her responsibilities included blog writing, photography, and video creation.