With more people than ever working from home, now is the time to start thinking about how our homes affect our motivation. When it comes to work, motivation is extremely important, as this is what pushes you to take action to achieve your goals.
To help make sure your home is giving off the motivational vibes you need to get your work done, MyJobQuote's interior designer, Ryan McDonough, has created this breakdown of interior design changes to make to increase motivation.
Have a Dedicated Work Space
Your workspace should be somewhere where interruptions are limited. For example, you may want to avoid placing your workspace in the kitchen or living room as these are areas where the rest of the family is likely to be, which could result in your becoming easily distracted. Instead, choose an area away from the family rooms to make sure you can concentrate properly on the tasks at hand while working from home.
Add Some Plants to The Space
Research has shown that bringing plants and nature into the home can boost your well-being, creativity, and productivity. Plants can also help to reduce stress.
Consider installing a dedicated shelf for plants and add a small potted plant to your desk. Fresh flowers in a vase are also a great way to add plants and nature into your workspace. In addition, you can choose natural materials for your furniture, such as solid wood.
Make The Right Choices in The Bedroom
One of the best things you can do to increase your motivation is to change the décor in your bedroom to ensure you get plenty of sleep each night.
Sleeping in complete darkness can help to stimulate the production of melatonin. This hormone can help to make you fall asleep faster. With this in mind, it's a good idea to invest in some blackout curtains or blinds for the bedroom.
Colours can also affect the way you sleep. Choosing a cool or neutral wall colour such as blues, greys, and greens can help to lower your blood pressure, reduce your heart rate, and slow your breathing down. You can create an even more relaxing environment by using candles or diffusers to fill your bedroom with relaxing scents such as lavender and camomile.
Add Some Reflective Surfaces
When working from home, it's a good idea to try to incorporate as many reflective surfaces as you can. Turn off the artificial lights and allow the natural sunlight to flow through the room. Vitamin D can help with a good night's sleep and can also help keep you motivated. It has been proven that Vitamin D can also improve your mood and make you feel much happier.
Hanging a mirror on a wall opposite a window is a great way to increase the amount of natural light that flows throughout the room. Painting your walls and ceiling white can also help to brighten up the space. Make sure your furniture doesn't block the windows, and consider glossy materials or reflective accent surfaces that can help to bounce the natural light around the room.
Consider The Feng Shui
When it comes to remote working, most people will position their desks and chair to face a wall. While this is a great way to help minimise distractions, it also limits your openness to new ideas and suggestions.
When creating the perfect workspace, it's best to have your desk facing an open room. This allows you to welcome new ideas and also makes the space feel much less cramped. Facing an open space rather than a wall will help to reduce stress and make you feel freer, which, ultimately, improves your overall mood.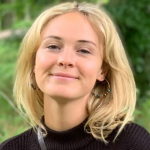 Joanne is the editor for Workplace Wellbeing Professional and has a keen interest in promoting the safety and wellbeing of the global workforce. After earning a bachelor's degree in English literature and media studies, she taught English in China and Vietnam for two years. Before joining Work Well Pro, Joanne worked as a marketing coordinator for luxury property, where her responsibilities included blog writing, photography, and video creation.