Leading rural insurer NFU Mutual has been named as a winner of the Gallup Exceptional Workplace Award for 2023. 
The prestigious award recognises organisations that put their employees at the heart of their business strategy and see extraordinary results by fostering a culture of opportunity and engagement.
NFU Mutual builds on an existing reputation as an exceptionally engaged workforce, having received the Exceptional Workplace Award every year since its inauguration. The insurer also received the forerunner to the Exceptional Workplace Award several years in a row.
Trisha Jones, HR Director at NFU Mutual, said:
This is a wonderful accolade and we are delighted Gallup has yet again recognised that NFU Mutual is providing an environment of inclusivity where our people can thrive and achieve their full potential. From supporting our staff's health and wellbeing, to championing their career progression, we're passionate about being a great place to work for all our people.

As a mutual insurer, our staff are motivated to deliver excellent outcomes for our members and customers, not shareholders, and we will continue to give them the tools to remain fully engaged and empowered to make a difference both professionally and personally.
Trisha Jones, HR Director at NFU Mutual
The international Gallup award is evaluated carefully by a panel of judges and given only to organisations that meet rigorous standards of employee engagement. The award requires entrants to clearly evidence how they fuel business performance through an engaged workforce.
A panel of Gallup workplace scientists and experts evaluates applicants and assesses them against criteria established by the most exhaustive workplace study ever conducted.
Applicants are compared to Gallup's extensive database and must measure up to the most successful and profitable organisations in the world. Only organisations in the top tier of the database qualify to win.
Gallup said:
Winners of the Gallup Exceptional Workplace Award put their people's engagement at the heart of their business strategy and create a workplace culture to match. In doing so, these organisations see returns in retention, engagement, increased productivity, improved wellbeing and organisational citizenship, better customer experiences, true organic growth, and higher revenue. While these business outcomes are impactful, the true impact of this award is creating a space where your people can thrive at work.
For more information about NFU Mutual go to https://www.nfumutual.co.uk/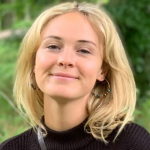 Joanne is the editor for Workplace Wellbeing Professional and Family History Zone. After obtaining a bachelors degree in English literature and media studies, Joanne went on to spend two years of her life writing and teaching English in China and Vietnam. Prior to joining Black and White Trading, Joanne was a marketing coordinator for luxury property in Brighton focusing on blog writing, photography and video creation.